Edimax Pro NMS (Network Management Suite) is a web-based wireless network management system. Company MIS departments can plan and manage Edimax Pro access points' powerful functionality according to their office space using an easy, remote web-based interface which includes a dashboard, map view, traffic statistics and wireless client list for network-wide remote administration. RADIUS settings, WLAN group settings, access control, guest network settings and firmware upgrades can all be managed centrally from a single location to reduce network downtime, aid troubleshooting and optimize network performance. Zone plans and setup wizards are also available for expanding and managing large networks with multiple access points.
Edimax Pro Network Management Suite(NMS)是一個網頁式介面的無線網路中央管理系統 。公司裡的MIS網管人員可以藉由方便、 可遠端管理的網頁式管理介面(包括儀表板、地圖檢視、 流量統計和遠端系統管理整個網路的無線用戶端清單等功能),並根據辦公室空間,規劃和管理Edimax Pro無線基地台的強大的功能。不論是RADIUS設定、WLAN群組設定、 access control、訪客網路設定及韌體升級等功能,皆可以從單點位置集中管理,以減少網路宕機時間,疑難排解説明並優化網路效能。區域計畫和安裝精靈也可用於擴展和管理大型網路的多個無線基地台。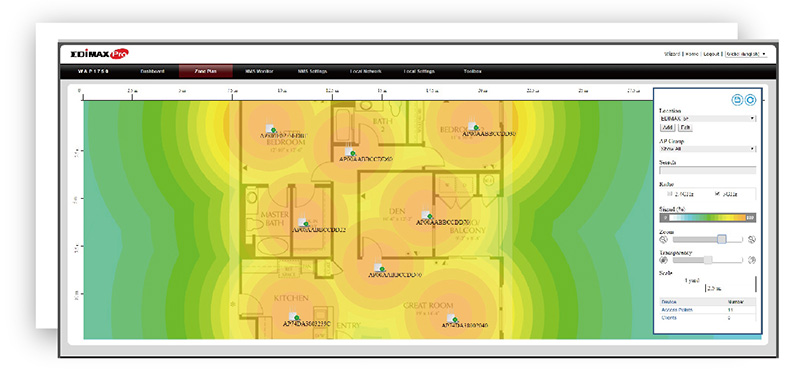 ​
AP Array
Edimax Pro Network Management Suite (NMS) supports AP array architecture, which enables the central management of a group of access points. NMS can be installed on one access point and support up to 8 Edimax Pro access points with no additional wireless controller required, reducing costs and facilitating efficient remote AP management. Access points can be deployed and configured according to requirements, creating a network powerful network architecture which can be easily managed and expanded in the future, with an easy to use interface and a full range of functionality for company MISs.
支援AP array架構
Edimax Pro Network Management Suite (NMS)中央管理系統套件支援AP array架構,可中央管理群組無線基地台。只要將NMS安裝於一台無線基地台,即可同時管理(最多)8台無線基地台,不需額外的無線控制器,能降低成本、遠端高效管理無線基地台。有了NMS,無線基地台可依需求來進行架設與配置,透過它易於使用的操作介面及完整的功能設計,未來,公司的MIS輕輕鬆鬆地就可以建立一個強大且易於管理及擴增的網路架構。
​
​
​