Work from Home Networking
Are Your Ready to Work from Home?
As you may know, the coronavirus has taken the world by surprise. More and more people are forced to work from home to contain the spread of the virus. Now that you are working from home, your employers still expect the same efficiency you get from working at the office. The question is, are you ready to work from home (WFH)?
Your Annoying Home Network
More and more people are working from home, it's not a huge surprise that your home internet may be struggling. The majority of homes around the world are not made to meet the requirements of a "home office", especially when it comes to internet connection reliability and performance.
Lag making you fall asleep

Bad connection in your bed office

Nothing to do on the balcony

Trying to add Wi-Fi to your desktop
Ease Networking with Edimax
Are you experiencing slow internet at home or having Wi-Fi dead zones? It could be a problem with your home internet connection. EDIMAX would like to take this opportunity to show you how to create a high standard home office with ease.
No more lag means more work done

Now you can work in your bed 24/7

Work on a relaxed balcony or backyard

High-speed Wi-Fi connection with your desktop
Home Networking for Your Needs
Connected Home Devices
​Wi-Fi Router

Access Point

Range Extender

Wireless Network Adapter

Wired Network Adapter

Switch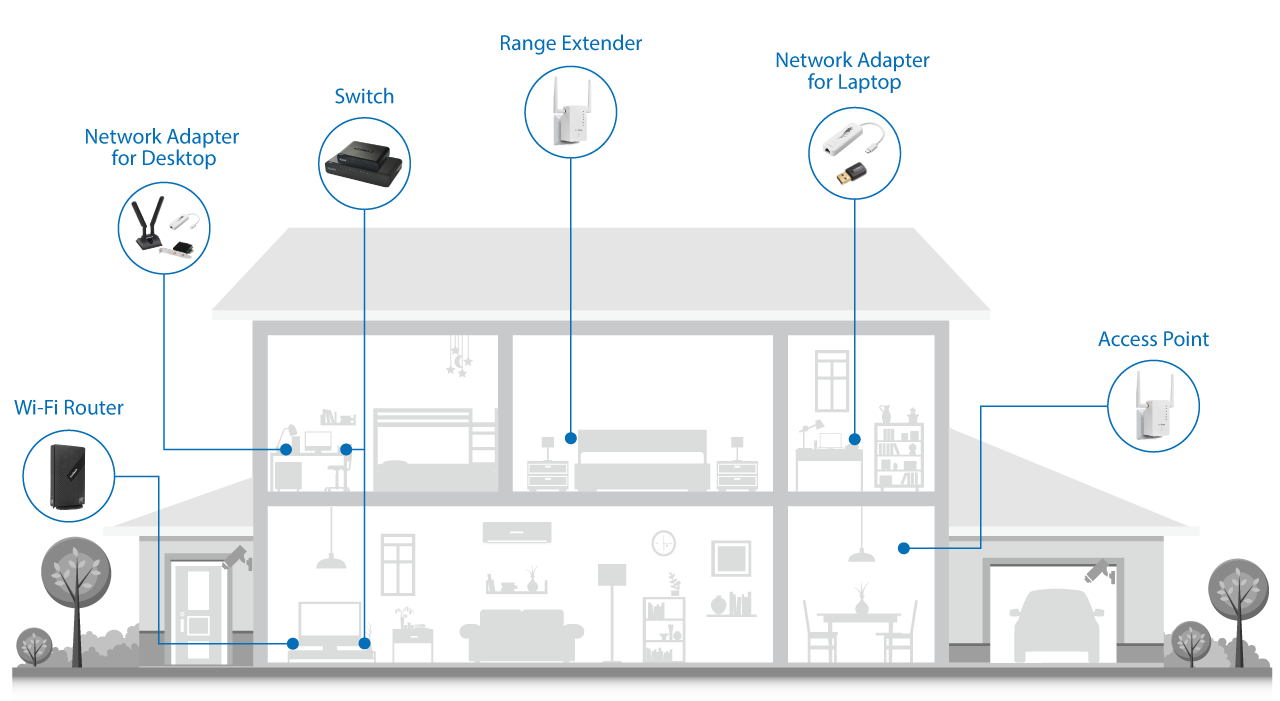 The All-New 11AX/Wi-Fi 6 Tech
This is the latest and greatest networking technology on the market. Expect higher stability, speed and connected devices. If you want to expect top-tier home office network performance, 11AX is the way to go.
Whole Home Wi-Fi System
Have a large home or hard to reach Wi-Fi areas? Have a proper "whole home" setup and worry no more. Get internet connection no matter where you are in your home.
Wi-Fi Router
We have an array of router to choose from that suit your home office needs. Easily replace your current router and feel the difference. The Edimax router is not just a router, it includes with multiple modes for your network needs.
Access Point / Range Extender
If you already have a router and would like to expand your home connectivity, such as maximizing your Wi-Fi connection speed in every room and eliminating the Wi-Fi dead zones, access points or range extenders are what you need.
Wireless Adapter for Laptop
Want to upgrade the wireless signal of your laptop? Maybe you have a desktop that does not have wireless connection. All you need to do is plug in an EDIMAX wireless adapter to the USB port and transform your Wi-Fi experience.
PCI-E Adapter for Desktop
If you prefer your desktop to have an 11AX Wi-Fi connection or upgrade your LAN port, you can choose the 11AX PCI-E Wi-Fi adapter or Gigabit wired LAN adapter.
Network Adapter for Laptop & Desktop
If your laptop does not come with a LAN port, or the LAN port is not fast enough for your home office needs. EDIMAX has an array of network adapters that offers connectivity for converting your type-C or type-A USB to high-speed 1 or 2.5 Gigabit Ethernet.
Switches: The Go-to Place for Wired Devices
To have a whole home wired connection setup, you would need quality switches. With over 34 years of providing top tier companies with robust and reliable switches, we are sure that EDIMAX switches are good enough for your home office needs.
Contact Us
Feel free to contact EDIMAX representative to find out more where to buy or how the EDIMAX solutions and products can benefit your business and customers.