Edimax Pro Business Wi-Fi
Always Stays Connected
Reliable Seamless Roaming Wi-Fi in Office or at Home. Edimax Pro Wi-Fi supports fast roaming keeps your wireless devices always-connected without lag or interruption. Provides reliable data and voice communications.
Exceptional Business Wi-Fi
High Speed,
High Efficiency

Supports the high-speed 802.11ac or 802.11ac Wave 2 with MU-MIMO that connects more devices simultaneously and enhances Wi-Fi efficiency for high bandwidth data or video transmission.

High Sensitivity,
Wide Coverage

With adjustable RF output power and high receiver sensitivity, Edimax Pro APs are ready to provide wide Wi-Fi coverage where it's needed the most across large spaces for every corner.

Reliable Connection,
Optimized Performance

Fast roaming IEEE 802.11r/802.11k for reliable data and voice communications. Featuring Beamforming, AirTime Fairness, Band Steering for improved Wi-Fi range, reliability and performance.
High Density,
BYOD Environments

For high-density usage in crowded and BYOD (Bring Your Own Device) environments of offices, enterprise, campus and public areas, Edimax Pro AP supports up to 100~200 users simultaneously.

Secure Access,
Separated Networks

Support up to 32 Multiple SSIDs, VLAN and built-in RADIUS server for independent secure Wi-Fi access, ideal for multiple departments, customers or guests, to protect sensitive company information and supervise acces to internal networks.

NO License Fees,
Flexible Management

Depending on the scales of the Wi-Fi networks, Edimax Pro offers three optional Wi-Fi management tools, built-in NMS, SKYMANAGE PC software and stand-alone AP controller, all with free of license fees.
Enhanced Customer Experiences
Self-Registration
Wi-Fi Access

SMS Authentication* is a simple way to authorize users via mobile phone SMS (Short Message Service) when connecting to Wi-Fi hotspots.
*Supported with project base.

Customized
Login Page

Create Captive Portals for customized login page with company logo, marketing banners and terms of service. Users are required to pass through the portal to connect to the Wi-Fi network.

User-Friendly
Wi-Fi Ticketing

Supports Wi-Fi Ticketing for hotspots such as hotels or libraries with Wi-Fi account, password and limited-time access. The information can be printed on a user-friendly ticket using any printers.
Perfect, Easy, Flexible Management
Free of License Fees
Built-in NMS (Network Management Suite)

Built-in with Edimax Pro CAP, WAP and OAP1750 Access Points, NMS supports an AP array architecture, which enables the central management up to 8 or 16 access points. The built-in RADIUS (AAA) server supports authentication up to 512 user accounts for maximum security.

Stand Alone APC500 Wireless AP Controller

Scale your network according to your business. The APC500 AP controller enables efficient and remote central management of up to 200 access points, configured according to your business needs to create a powerful, easy to use network architecture.

Free SKYMANAGE PC Software for Multi-Site

SKYMANAGE PC is an easy-to-use Wi-Fi network management software to easily deploy, configure, manage and monitor connected Edimax Pro Wi-Fi access points and Wi-Fi devices from anywhere with security. It is ideal for multiple sites business or SI projects that can be remotely controlled up to 10 multiple sites and up to 250 APs.
Wi-Fi Anywhere! Productivity Everywhere!
Solutions for Office & Large House, Hospitality, Education, Outdoor and Long Range.
Mobility and Productivity Anywhere.

Business Wi-Fi Solutions
Indoor & Outdoor Access Points
Wi-Fi Management Software and Controller
PoE Web Smart Switches
Learn More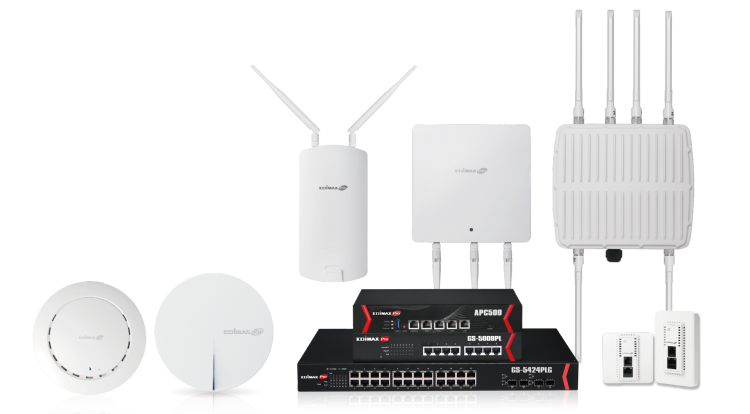 Contact Us
Feel free to contact EDIMAX representative to find out more where to buy or how the EDIMAX solutions and products can benefit your business and customers.