Edimax Ranked by Interbrand as Top 35 Most Valuable International Taiwanese Brand
Edimax Technology, a leading networking solutions provider, has been ranked as one of the top 35 most valuable international Taiwanese brands in the Interbrand 2014 Taiwan Top Global Brand Valuation League Table.
The 2014 Top Taiwan Global Brand Valuation is sponsored by the Taiwan Bureau of Foreign Trade of the Ministry of Economic Affairs and is hosted by Interbrand - an international brand consultancy based in New York City with offices in 27 countries. The Taiwan brand rankings use the same criteria and valuation system as the prestigious Best Global Brands report which Interbrand publishes on an annual basis. These criteria are based around an ISO-certified quantitative methodology which examines aspects of financial performance, the role of the brand in consumer choices, and the brand's competitive advantage.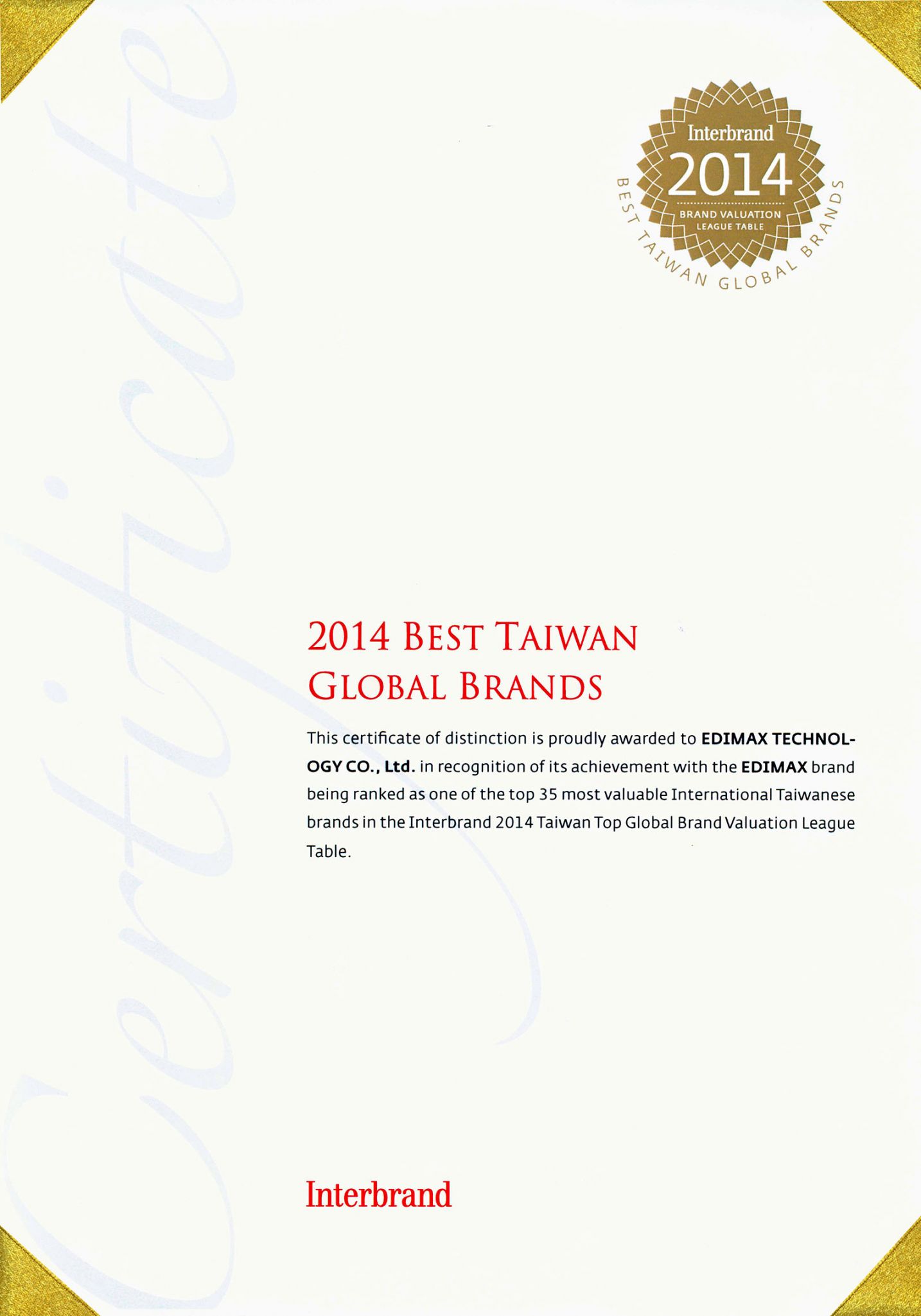 The awards are widely seen as a key indicator of domestic and global market position, and reflect Edimax's continuing progress and development as a leading network solutions provider. With innovative, easy-to-use networking products 2014 saw an expansion into the Indonesian market with a new branch office opening, a new range of SMB products under the Edimax Pro brand, and the development of "smart home" products such as Edimax smart plugs with power meter and smartphone apps. Additionally, Edimax refreshed its range of 802.11ac Wi-Fi routers and developed award-winning home Wi-Fi extenders.
With a strong commitment to research and innovation, Edimax provides networking solutions and infrastructure for homes and small businesses. Manufacturing a range of range of routers, switches, extenders, powerline adapters, smart plugs and network cameras, Edimax is committed in 2015 to surpassing the achievements of 2014 and looks forward to ranking even higher in Interbrands' valuation in 2015 and beyond.
---

About Edimax Technology
Edimax Technology is dedicated to the design, development and manufacture of smart networking solutions. Since Edimax was founded in 1986, the company has grown to be among the world's leading manufacturers of advanced network communication products. Edimax is headquartered in Taiwan (Republic of China) and has been listed at the Taiwanese Stock Exchange since 2001. In 2003, Edimax was ISO 9001 and ISO 14000 certified. Edimax's product portfolio fulfils the needs of any networking and IP surveillance architecture or application requirements.
Interbrand,Edimax,Top 35,Best Taiwan Global Brands,