Unsatisfied that your wireless can't reach certain areas in your house? Powerline is an ideal and simple solution to your problem. Edimax's HP-5103 AV500 Nano Powerline Adapter extends your internet access with standard power outlets to create a 500 Mbps high-speed network to any room without internet dead spot and no more messy wires running through your house.

Unlike Wi-Fi devices with limited bandwidth, HP-5103 is perfect for high-bandwidth applications like HD video and audio streaming, and it's compatible with any networking device with an Ethernet port. HP-5103 Powerline adapters can reach locations wireless cannot, so they are ideal for computers, home theater, smart TVs and gaming devices. It provides you an expandable and easy to set up network at home.
Plug & Play, Easy to Create or Extend Network via Existing Electrical Wires
The Edimax HP-5103 transforms the existing electrical wires in your home or office into a high-speed network. Complicated, disruptive and unsightly cabling is no longer necessary - if your home or office doesn't have an existing Ethernet cable infrastructure, the HP-5103 enables you to create a network environment easily and cost-effectively.


---
Up to 500Mbps, 300 Meters
The Edimax HP-5103 supports IGMP managed multicast streams, used for online gaming and video streaming applications and allows for more efficient use of network resources. The HP-5103 can provide users with a stable high-speed data transmission rates of up to 500Mbps over the existing electrical wires and has a transmission range of up to 300 meters. With the HP-5103, you can transfer high-definition video and digital audio quickly and easily.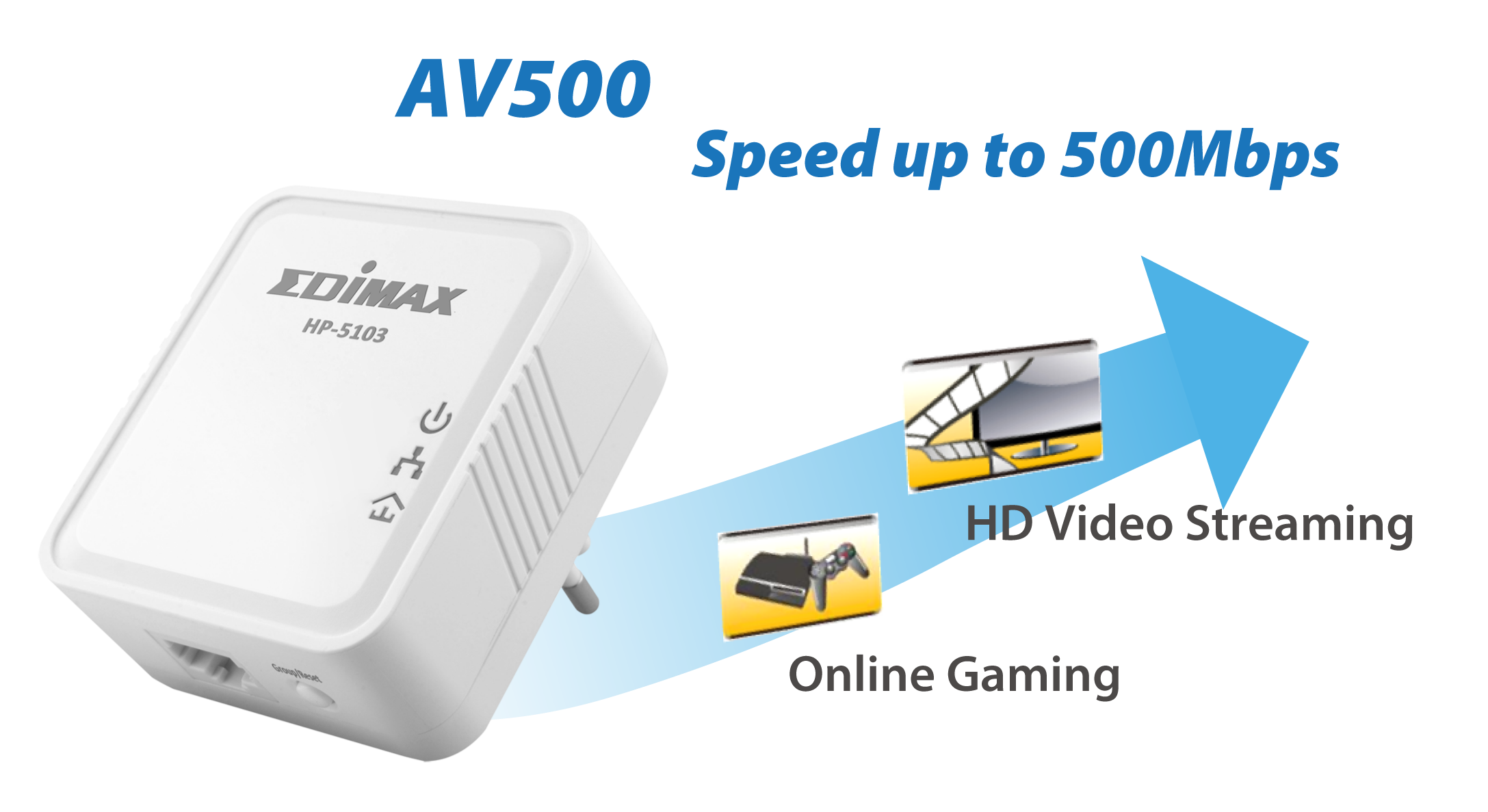 ---
Energy Saving
The HP-5103 supports the energy saving mode to reduce power consumption. If no data transmission or reception occurs over a certain period of time, the adapter will automatically go into standby mode to save power up to 87.5%.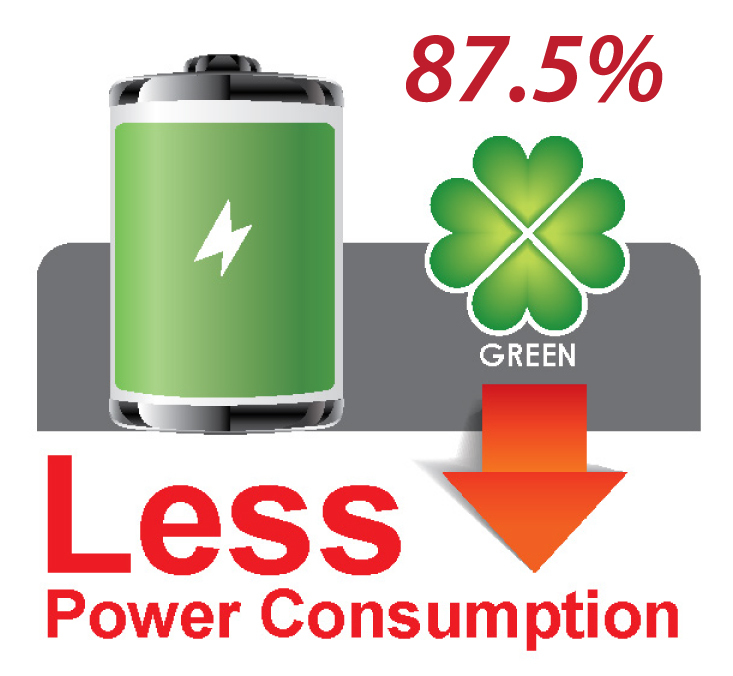 ---
Hardware Combo Group/Reset Button
The Edimax HP-5103 has a combo group/reset button for simplified group and reset configurations. Press the group/reset button and the HP-5103 will help you set up a password for your network automatically, or reset the device to factory defaults.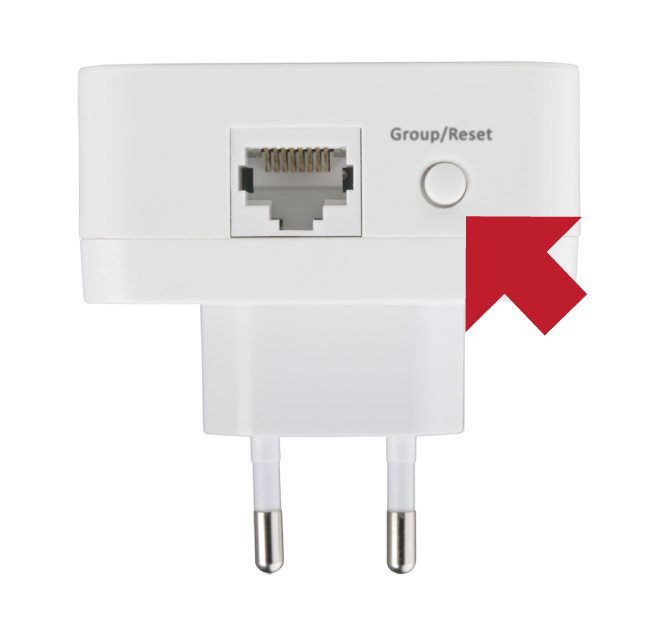 ---
APPLICATION DIAGRAM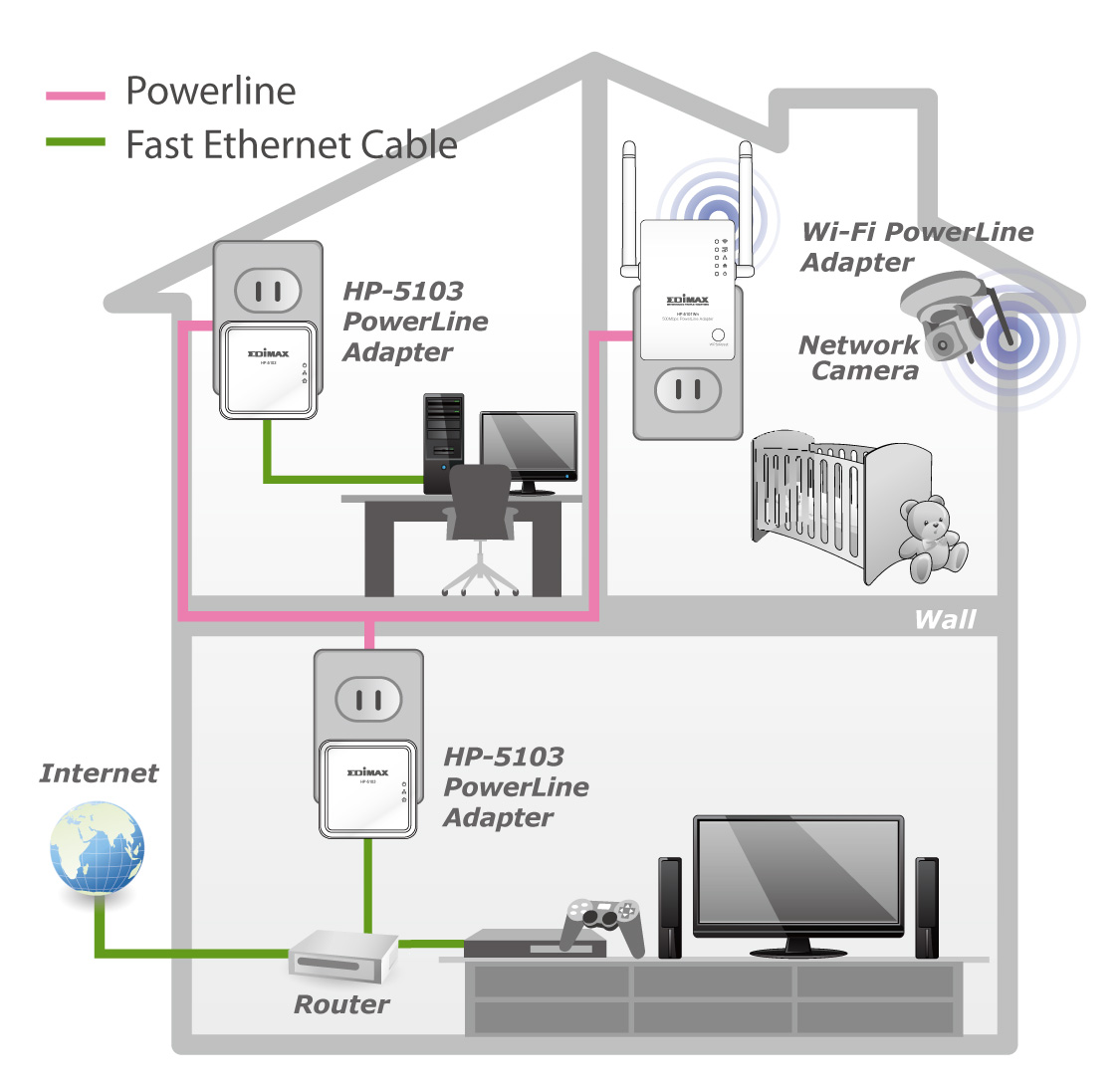 *Powerline adapters must be deployed in sets of two or more.
500/200Mbps is the maximum theoretical communication speed at the physical layer via electric power lines based on the IEEE 1901 standard.