Upset that your wireless can't reach certain areas in your house? Powerline AV500 Power Line Wi-Fi Extender with Powerline Adapter Kit is an ideal and simple solution for you. Edimax's HP-5102Wn AV500 Powerline Wi-Fi Extender and HP-5102AC AV500 Powerline Adapter with Integrated Power Socket create a 500Mbps high-speed network with standard power outlets and converts wired Ethernet network and Powerline network into wireless which extends your internet access anytime anywhere in the house without internet dead spot and no more messy wires running through your house.
HP-5122WAK Powerline Wi-Fi Extender with Powerline Adapter kit is perfect for high-bandwidth applications like HD video and audio streaming, and it's compatible with any networking Ethernet-enable devices. HP-5102Wn expands your network to the locations wireless cannot, so it is ideal for computers, home theater, smart TVs and gaming devices. It provides you an expandable and easy to set up network at home.
Transmit Network Data via Existing Electrical Wires
The Edimax HP-5122WAK transforms the existing electrical wires in your home or office into a high-speed network. Complicated, disruptive and unsightly cabling is no longer necessary - if your home or office doesn't have an existing Ethernet cable infrastructure, the HP-5122WAK enables you to create a network environment easily and cost-effectively.
Extend Your Home Network With High-Speed 300Mbps Wireless N Coverage
The HP-5102Wn is a 500Mbps Powerline adapter and a 300Mbps 802.11n wireless. Extend an Internet connection to any room via your home's electrical circuit and create a high speed 802.11n wireless at any power socket. The HP-5102Wn offers easy, plug-and-play setup and provides super-fast Wi-Fi coverage – ideal for keeping smart phones, tablets and laptops connected to high-speed Wi-Fi anywhere in your home.
Integrated Power Socket with Noise Filter
With the Edimax HP-5102AC, no electrical outlet goes to waste. It is built with an integrated power socket, which you can use with any electrical device. So even when the HP-5102AC is plugged into a socket, you can still plug another electrical device into the HP-5102AC and have your usual socket capacity. The in-built noise filter also ensures that you do not experience a sudden drop of network speed when a high power consuming electrical device is being used.
Great for HD Video and Gaming
A perfect solution for bandwidth intensive applications such as online gaming or HD videos, the HP-5122WAK can provide users with a stable high-speed data transmission rates of up to 500Mbps over the existing electrical wires. IGMP mulitcast support ensures high-performance and efficient use of network resources for streaming high-definition video and digital audio quickly and easily.
User-Friendly Setup
Powerline adapters are designed with ease-of-use and user-friendliness in mind. There is no need to install any additional software and your Powerline network and be up-and-running within just a few minutes. A secure Powerline connection can be established between compatible devices with a simple touch of a button, with no configuration or passwords necessary. Energy Saving The HP-5122WAK supports the energy saving mode to reduce power consumption. If no data transmission or reception occurs over a certain period of time, the adapter will automatically go into standby mode to save power consumption.
---
APPLICATIONS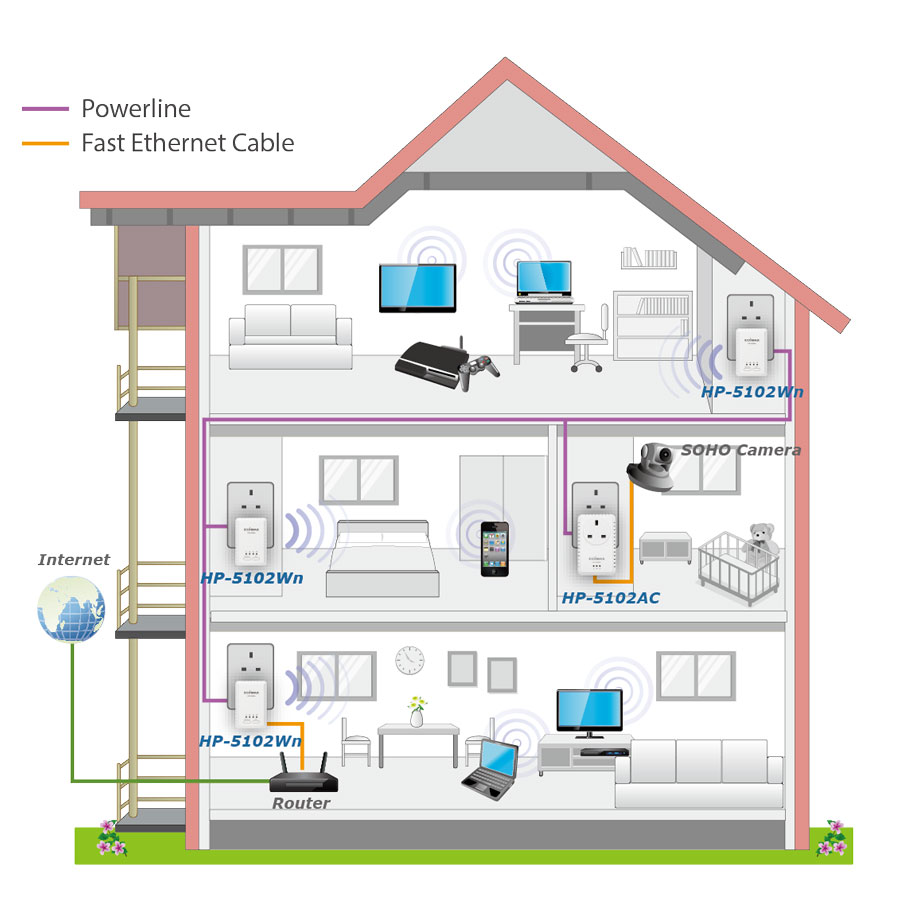 ​*Powerline adapters must be deployed in sets of two or more.
HP-5122WAK includes 1 unit HP-5102Wn & 1 unit HP-5102AC
*500/200Mbps is the maximum theoretical communication speed at the physical layer via electric power lines (i.e. speed between Powerline devices) based on the IEEE 1901 standard.