Hassle-Free Office Wi-Fi System
Office

Easy Steps

Wi-Fi Networks
Office Wi-Fi Everywhere!
Ideas Anywhere, Productivity Everywhere!
Effortless Installation & Management
Self Management

Three APs are pre-configured and self-managed.

Intuitive UI

The icon-based interface for intuitive and simple configurations.

E-MAP

Shows wireless coverage and status of your APs on E-MAP.
License-Free Wi-Fi Management
Maximized Cost Efficiency, NO Need for Server or Controller Software and NO License Fee That Saves Total Cost of Ownership (TCO).
Secure Separated Three Wi-Fi Networks
Office Network

Each employee has his/her own Wi-Fi access account and password.

Guest Network

Login to guest network via captive portal and SMS authentication.

Device Network

Access Control List (ACL) to manage wireless equipment.
Easy, Complete, Expandable
Office Wi-Fi System
Office 1-2-3 includes three APs and is expandable with Office +1 Add-on AP, up to a total of 16 APs.
Easy Setup!
Get Your Office Wi-Fi Up and Running in Minutes!
1.

Connect the Office 1-2-3 APs to the existing network via switch. (APs can be powered on by PoE)

2.

Download the IP Finder utility and the system will find the Office 1-2-3 APs automatically.

3.

Follow the wizard instructions of web- and icon-based UI and easily configure the Wi-Fi networks in few steps.
Simple yet Powerful!

Office Wi-Fi System
Dedicated Office Wi-Fi in High Density Offices for up to 100 Employees.
Self-Managed & Pre-Configured Wi-Fi System for Easy Setup.
Security in Separated Wi-Fi Networks – Office, Guest and Wi-Fi Device Networks.
Quick and Easy Operation with Windows-Based IP Finder.
Maximized Cost Efficiency, NO Need for Server or Controller Software and NO License Fee.
Expandable Wi-Fi System to up to a Total of 16 APs.
Flexible PoE Deployment Supports with IEEE 802.3at and IEEE 802.3af PoE.
High-Speed 802.11ac Wave 2 & Efficient MU-MIMO Serves Multiple Devices Simultaneously.
High Performance Wi-Fi Connection with Beamforming, AirTime Fairness (ATF), and Band Steering.
Built-In RADIUS Server Manages up to 256 User Accounts.
Learn More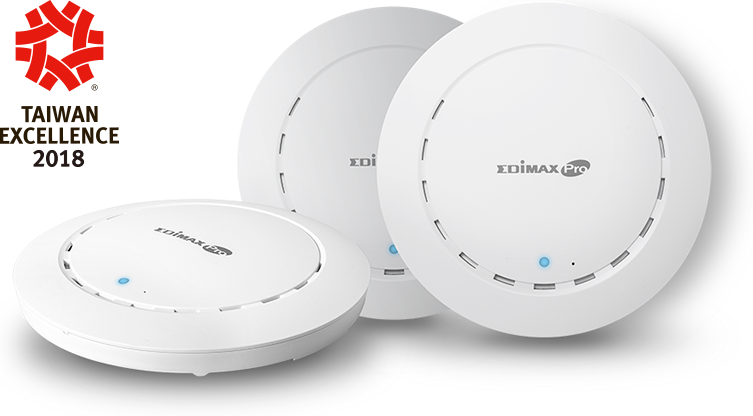 Contact Us
Feel free to contact EDIMAX representative to find out more where to buy or how the EDIMAX solutions and products can benefit your business and customers.