Edimax Sweeps Record with 7 Taiwan Excellence Awards
Taipei, Taiwan
– Oct 2, 2017
Results of the 26th Taiwan Excellence Awards announced that Edimax Technology, a leading networking solutions provider, has won seven awards for 2018!
503 products were awarded for their innovative value, picking from 1,209 registered products. The jury members only selected 40 percent of the entries. Edimax delivered and won seven awards with our diverse range of SMB Wi-Fi, Smart Home Wi-Fi, and IoT products and solutions.
The prestigious Taiwan Excellence Awards were presented to Edimax's innovative, exciting products: Edimax Pro CAP2600 Enterprise Wave 2 Ceiling-mount Access Point, IAP1200 Dual-band In-wall Access Point, Office 1-2-3 Wi-Fi System with Office 1-2-3 CAP, Whole Home Wi-Fi Solution with Alexa Skill Kit, AI-2002W Indoor Air Quality Monitoring with Digital Signage and Display Solution, AirTracker Outdoor location Tracking Solution, and Real-Time Locating System Indoor Solution – the seven award-winning products / solutions developed by Edimax's dedicated R&D team.
An internationally recognized mark of excellence, quality and trust, Taiwan Excellence Awards are given to world-class, revolutionary products which embody innovation and value every year. Edimax has delivered continuously and is proven by claiming the awards for 17 consecutive years, and even more so this year by breaking its record to seize seven awards for 2018. The award ceremony will take place on December 5, 2017 in Taipei, Taiwan.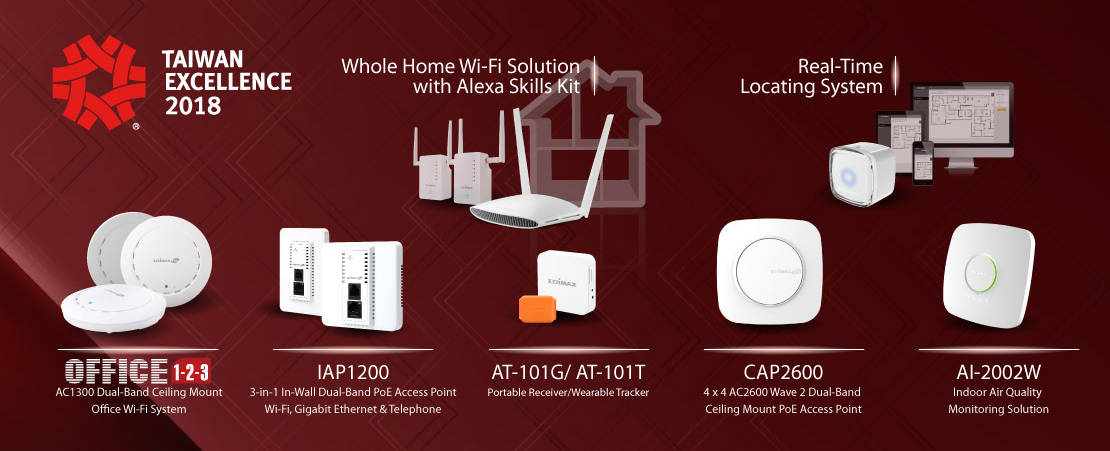 About Edimax Technology
Edimax Technology is dedicated to the design, development, and manufacture of smart networking solutions for homes and business. With 31 years of experience and a worldwide footprint, the company provides superior solutions that combine the latest and best-fitting technology with customer needs. 20 branch offices around the world offer direct, real-time services and support to more than 300 partners across 70 countries. With ISO 9000/14000 certification and recognized by Interbrand as one of the top 35 global Taiwanese brands, the company consistently delivers advance networking solutions and services in SMB, SOHO, Smart-connected networking, and the Edimax Cloud platform. All these are achieved based on Edimax's core values of Quality, Service, Innovation and Integrity (QSII)
Edimax, Taiwan Excellence Awards, SMB Wi-Fi products, Smart Home product, IoT advanced solutions