De Edimax Pro GS-5424PLG is een web-smart switch met 24 gigabit PoE+ poorten en 4 gigabit SFP slots. De switch is ontworpen voor middelgrote tot grote netwerkomgevingen. De standaard 19-inch steunen voor rekmontage maken integratie mogelijk met de meest voorkomende montagesystemen op de markt. De Edimax GS-5424PLG is een uitstekende keuze voor het upgraden van de prestaties en efficiëntie van uw netwerkomgeving.
IEEE 802.3at/af Power over Ethernet standaard
De GS-5424PLG is voorzien van 24 IEEE 802.3at Power over Ethernet (PoE+) poorten die per poort tot 30W elektriciteit leveren, en heeft een totaal vermogen van 400W om elk IEEE 802.3at of 802.3af apparaat te voeden. Dankzij de PoE-detectiefunctie, kan de GS-5424PLG verifiëren of het aangesloten apparaat de IEEE 802.3at of 802.3af standaard ondersteunt. In het geval dat er een PoE-apparaat niet gedetecteerd wordt, wordt er alleen netwerkdata verzonden via de LAN-kabel. De GS-5424PLG kan worden gebruikt met verschillende PoE producten, zoals access points, netwerkcamera's of VoIP-apparaten en is een effectieve oplossing voor netwerkomgevingen waar stopcontacten moeilijk bereikbaar zijn.
PoE voor eenvoudige installatie en betere kostenefficiëntie
De Power over Ethernet technologie laat de ethernetkabel zowel data als spanning dragen, dit verminderd de installatie van kabels en maakt het gebruik van verlengsnoeren of stopcontacten op de muur of het plafond overbodig. Al met al kan de GS-5424PLG de installatiekosten verlagen en de installatie vereenvoudigen.
Power-Budget gebruikersinterface voor PoE apparaatbeheer
De GS-5424PLG is voorzien van een innovatieve power-budget UI (gebruikersinterface), hierdoor kunnen IT-beheerders toezicht houden op het verbruik van elke PoE-poort en het totale verbruik van alle aangesloten PoE-apparaten. Houd toezicht op het hele PoE netwerk en controleer het totale energieverbruik voordat nieuwe PoE-apparaten aan het netwerk worden toegevoegd. De power-budget UI heeft ook een aan/uit op afstand functie voor elke PoE-poort, hierdoor is het niet nodig om een PoE-apparaat handmatig te verwijderen en terug te plaatsen als het vastloopt. Gebruik simpelweg de aan/uit op afstand knop om het apparaat snel te resetten.
Slimme hulpprogramma's voor verbeterde netwerk efficiëntie
De GS-5424PLG is voorzien van slimme netwerk toezichtprogramma's voor een verbeterde netwerk efficiëntie. Beveiliging en beheerfuncties inclusief bandbreedtebeheer en VLAN (IEEE 802.1Q VLAN tagging en port-based VLAN). Met gebruik van de webgebaseerde interface, kunnen beheerders VLAN's opzetten om netwerkverkeer te scheiden en link-aggregatie instellingen configureren om dataverkeer pijplijnen te creëren. Deze functies bieden ook extra bescherming aan de rand van het netwerk en de met wachtwoord beschermde configuratie interface kan op afstand worden bediend.
---
TOEPASSINGSDIAGRAM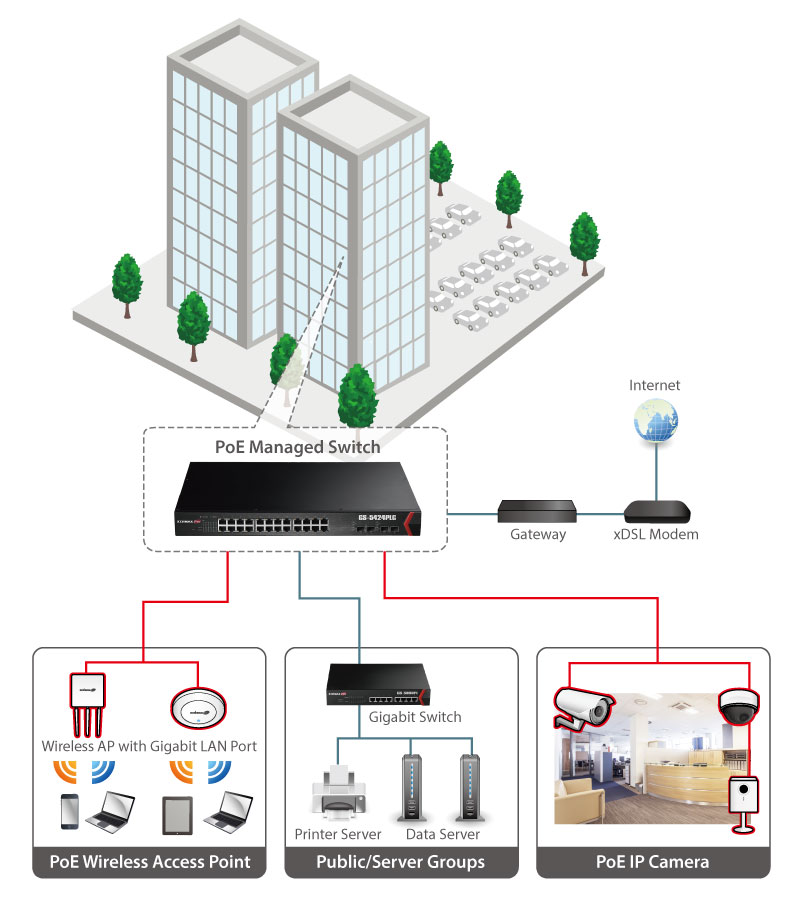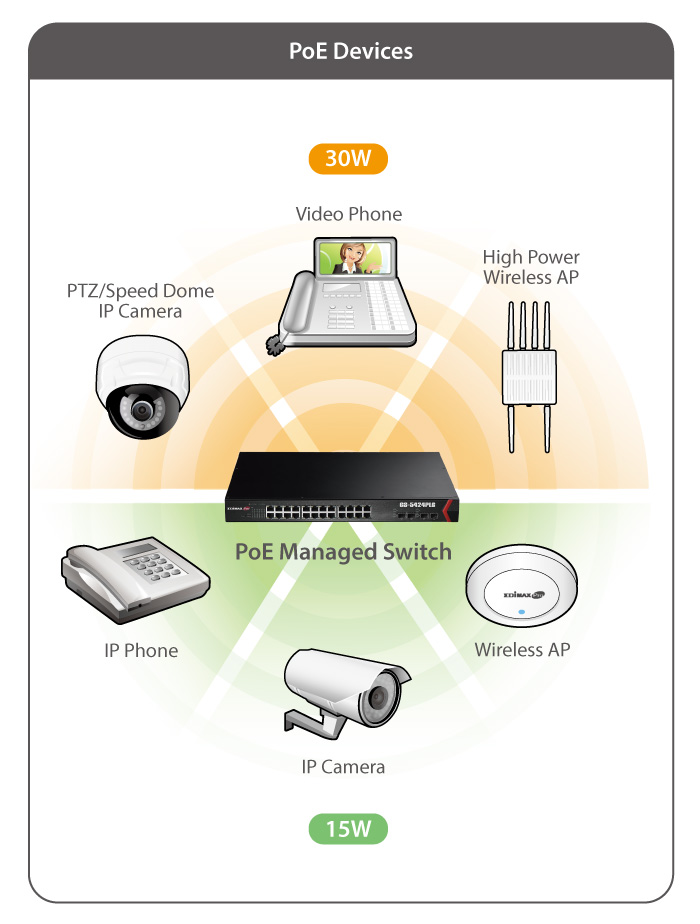 ​