​Betaalbare, betrouwbare, schaalbare
en veilige switch-oplossing voor MKB-netwerken
Om de afstand/snelheid van uw netwerkserver en backbone-verbindingen te vergroten.
De Edimax Pro GS-5424PLC smart switch wordt geleverd met een web-based gebruikersinterface, 24 Gigabit PoE+-poorten en 4 RJ45/SFP combo-poorten voor snel Gigabit en koper of optische verbindingen met een groot bereik. Met slimme functies in SNMP v3, PoE PD live controle, dual firmware, Spraak VLAN, DHCP Snooping, QoS, CoS, STP, 802.1Q VLAN, IPv4/IPv6, Poort Trunk, IGMP v1/v2/v3 snooping en mirror. De slimme switch biedt een betaalbare, betrouwbare, schaalbare en veilige switch-oplossing voor MKB-netwerken. De 'groot-bereikmodus' van Edimax, biedt voeding-en dataoverdracht tot wel 200 meter op een snelheid van 10Mbps en is hiermee speciaal geschikt voor IP-camera's en netwerkapparaten die zich op afstand bevinden. De PoE is tevens voorzien van autodetectie en voeding backfeedbeveiliging om op een efficiënte manier in voeding te voorzien en tegelijkertijd schade aan de PoE te voorkomen. De Edimax GS-5424PLC is de ideale oplossing om het bereik en de snelheid van uw netwerk server en backbone-verbindingen te vergroten.
Gigabit High-Speed Verbindingen
In overeenstemming met de IEEE802.3/802.3u/802.3ab/802.3z Gigabit Ethernet standaard, is de GS-5424PLC voorzien van 24 Gigabit Ethernet poorten voor snelle overdracht van grote bestanden en 4 SFP slots voor optische glasvezel Gigabit Ethernet verbindingen.
802.3at PoE met Autodetectie & Voeding backfeedbeveiliging
De GS-5424PLC is voorzien van 24 IEEE 802.3at Power over Ethernet (PoE+) poort die per poort tot 30W elektriciteit leveren, en heeft een totaal vermogen van 450W om elk IEEE 802.3at of 802.3af apparaat te voeden. Dankzij de PoE-detectiefunctie, kan de GS-5424PLC verifiëren of het aangesloten apparaat de IEEE 802.3at of 802.3af standaard ondersteunt. Als een PoE-apparaat niet gevonden wordt, dan wordt er alleen netwerkdata overgedragen. Daarnaast, kan de GS-5424PLC schade aan de PoE-poorten voorkomen dankzij de backfeedbeveiliging van de passieve PoE-injectoren.
PoE voor een eenvoudige installatie en betere kostenefficiëntie
PoE voor eenvoudige installatie en betere kostenefficiëntie De Power over Ethernet technologie laat de Ethernetkabel zowel data als spanning dragen, dit vermindert de installatie van kabels en maakt het gebruik van verlengsnoeren of stopcontacten op de muur of het plafond overbodig. Al met al kan de GS-5424PLC de installatiekosten verlagen en de installatie vereenvoudigen. De GS-5424PLC kan worden gebruikt met verschillende PoE producten, zoals access points, netwerkcamera's of VoIP-apparaten en is een effectieve oplossing voor netwerkomgevingen waar stopcontacten moeilijk bereikbaar zijn.
PoE Powered Device controle
Dankzij de PoE Powered Device (PD) controle, kan de switch worden geconfigureerd om de real-time status van aangesloten apparaten te controleren door ping-acties (het versturen van controlepakketten). Als een PD niet reageert, dan zal de GS-5424PLC PoE switch het apparaat opnieuw opstarten, wat de betrouwbaarheid van het netwerk vergroot en de beheerlasten verlaagt.
Groot bereik PoE afstandsvergroting, tot wel 200 meter
De long range modus biedt een vergroting van de voedings- en datalevering tot wel 200 meter, terwijl normale Ethernet Switches een beperkte afstand van 100 meter hebben. De long range modus werkt op een per-poort basis met een 10 Mbps full-duplex werking, ideaal voor apparaten zoals IP-camera's, IP-telefoons en PoE IoT apparaten op remote locaties.
Dual Firmware
De dual firmware functie stelt switches om twee firmwareversies te hebben. U kunt één van deze firmware kiezen als de actieve firmware en de andere als back-up. Als de actieve firmware problemen geeft, dan kunt u direct de back-up firmware activeren om de downtime te verminderen.
Spraak VLAN
Spraak VLAN is een speciale functie van de GS-5424PLC switch, die de netwerkbeheerder in staat stelt om IP-spraakverkeer van de IP-telefoon voorrang te geven via de toegangspoort of switch om VoIP-services te verbeteren. Spraak VLAN biedt tevens QoS naar VoIP, om te verzekeren dat de geluidskwaliteit van een IP-telefoon niet achteruit gaat als IP-spraakverkeer ongelijk verzonden wordt.
DHCP Snooping
De netwerkbeveiligingsfunctie van DHCP-snooping zorgt voor het voorkomen van kwaadaardig of misvormd DHCP-verkeer of het verminderen van veiligheidsrisico's van roque DHCP-servers. Deze functie controleert de DHCP-berichten die ontvangen worden van onbetrouwbare apparaten die verbonden zijn met een switch apparaat in het netwerk en beschermt de integriteit van de legitieme DHCP-erver en zijn werking.
Smart tools voor verbeterde netwerkefficiëntie
De switch ondersteunt tevens slimme en eenvoudige controlefuncties die zorgen voor een verbeterde efficiëntie van het netwerk. De web-based interface beheerfuncties bevatten o.a. QoS, (Quality of Service) bandbreedtebeheer voor een beter beheer van netwerkverkeer, VLAN (Virtual LAN) voor verbeterde netwerkbeveiliging en multicast IGMP snooping v1/v2/v3 voor streaming toepassingen. Voor een snelle en eenvoudige set-up, integreert het web-based beheer geavanceerde beheer en beveiligingsfuncties zoals Access Control List (ACL), CoS, STP, IPv4/IPv6, Port Trunk, IGMP v1/v2/v3 Snooping en Mirror.
TOEPASSINGSDIAGRAM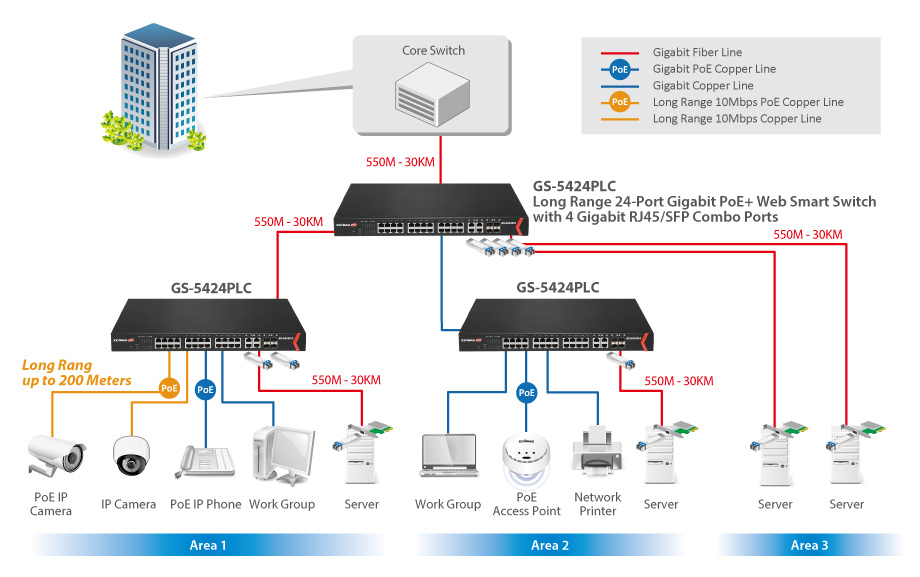 ​
EXTRA ACCESSOIRES
​

Compatibel met IEEE 802.3z Gigabit Ethernet en Fiber Channel standaard
Plug-en-Play & Hot Plugging
Ondersteunt single-modus of multi-modus vezel, afhankelijk van de SFP-modules
Max. kabellengte: 550 m tot 30 km afhankelijk van de SFP-modules
Industrieel SFP