De GP-101SF Gigabit PoE (Power over Ethernet) Splitter levert zowel data als voeding voor Gigabit ethernet producten en Fast Ethernet producten zonder PoE, zoals netwerkcamera's en draadloze access points, met gebruik van een ethernetkabel en zonder het gebruik van stopcontacten en elektrische kabels. Ideaal voor afgelegen locaties, de GP-101ST biedt gegevensoverdracht tussen de PSE (Power Source Equipment) en de GP-101ST met gigabit snelheid, en levert tegelijkertijd een uitgangsspanning van 12V, 9V of 5V DC tot maximaal 100 meter (328 voet). De GP-101ST is eenvoudig te installeren zonder gereedschap of software, terwijl het kostenbesparing en een flexibel netwerk met hoge betrouwbaarheid biedt.
Eenvoudige installatie End-to-End PoE oplossing
De GP-101ST ondersteunt 802./ gepatenteerde PoE, dit garandeert compatibiliteit met andere 802./ PoE/gepatenteerde injectors en switches. De GP-101ST is eenvoudig te installeren zonder gereedschap of softwareconfiguratie. Sluit de GP-101ST aan op een willekeurige voedingsbron, zoals een PoE injector of een PoE switch om voeding te leveren voor ethernet apparaten. De GP-101ST biedt kleine tot middelgrote bedrijven een complete end-to-end PoE oplossing.
Kostenbesparend netwerk
De GP-101ST ondersteunt 802.at/af waardoor u verzekerd bent van compatibiliteit met andere 802.3af PoE injectors of PoE switches. Door het gemak van PoE maakt de GP-101ST het gebruik en de kosten van een ethernet apparaat, zoals een draadloos access point of een netwerkcamera in de buurt van een stopcontact of het gebruik van elektriciteitskabels, overbodig. Voor flexibele netwerkopties kan de compacte GP-101ST aan een plafond of muur worden gemonteerd, tot wel 100 meter (328 voet) vanaf een voedingsbron.
Betrouwbare en flexibele voedingsbron
De GP-101ST is voorzien van een PoE kortsluitingsbeveiliging om netwerkapparaten te beschermen, en ondersteunt een uitgangsspanning van 5V, 9V of 12V DC met een ingebouwde schuifschakelaar, om afhankelijk van de behoeften van uw netwerkapparaat, de voeding te selecteren.
---
TOEPASSINGSDIAGRAM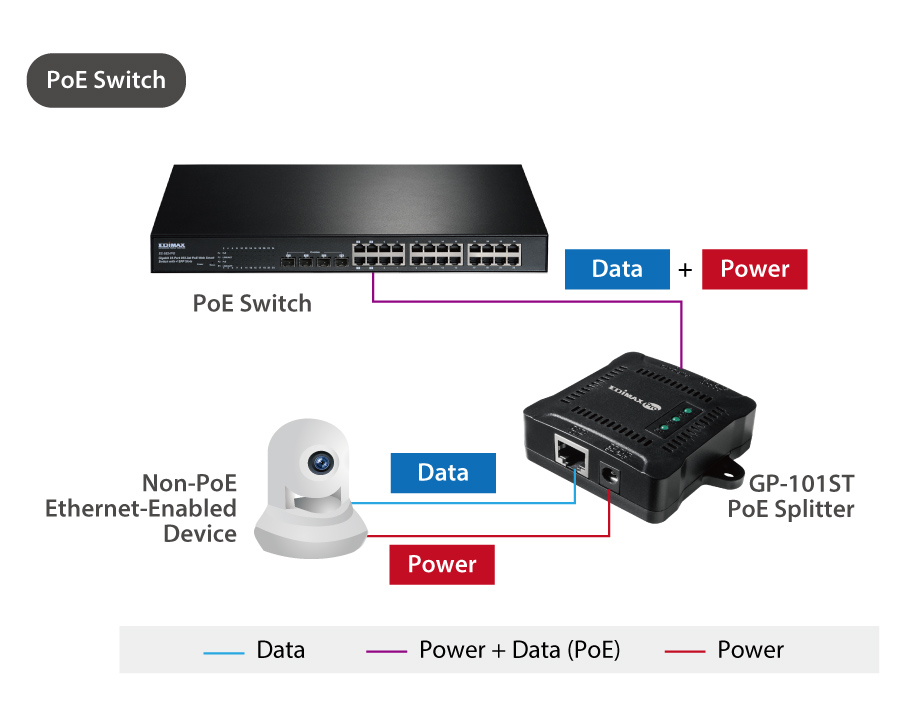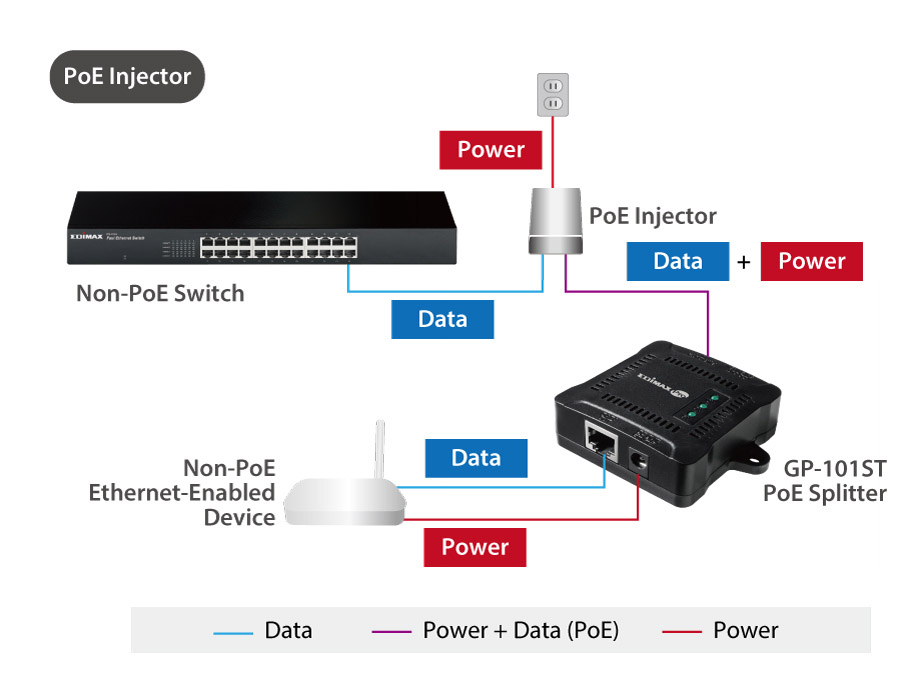 ​