De Edimax GP-101IT is een Power over Ethernet injector die niet alleen een kostenbesparende oplossing biedt voor het distribueren van voeding, maar tevens een naadloze installatie biedt in een bestaande LAN-infrastructuur. Met gebruik van voedings-injectoren, wordt stroom tot 30W en data die van een niet-PoE switch komt, samengevoegd en vervolgens verzonden naar IEEE 802.3at /af compliant producten zoals PoE dome-camera's via de Ethernetbekabeling. Op die manier worden uw investering in hardware behouden zonder dat u nieuwe PoE-switches moet aanschaffen.
IEEE 802.3at/af Power over Ethernet Standaard
Door IEEE 802.3at/af Power over Ethernet capaciteit toe te voegen aan een niet-PoE switch of router, kan de GP-101IT direct worden aangesloten aan alle mogelijke IEEE 802.3at/af producten, zoals PTZ (pan, tilt, zoom) netwerkcamera's, PTZ speed dome-camera's, kleuren touchscreen Voice over IP (VoIP)-telefoons en multi-channel draadloze LAN access points die een IEEE 802.3at/af ingaande Power over Ethernetpoort ondersteunen.
Kostenbesparingen en een eenvoudig installatie
Dankzij Power over Ethernet technologie kan de internetkabel zowel gegevens als voeding dragen. Daarmee elimineert de GP-101IT de noodzaak voor het plaatsen van kabels, verlengkabels of stopcontacten aan de muur, plafond of andere onbereikbare plaatsen. Daarmee worden installatiekosten verlaagd en de installatie vereenvoudigd.
Flexibele & betrouwbare stroomtoevoer
Met PoE kortsluitingsbeveiliging om netwerkapparaten te vrijwaren en te beschermen tegen schade.
---
TOEPASSINGSDIAGRAM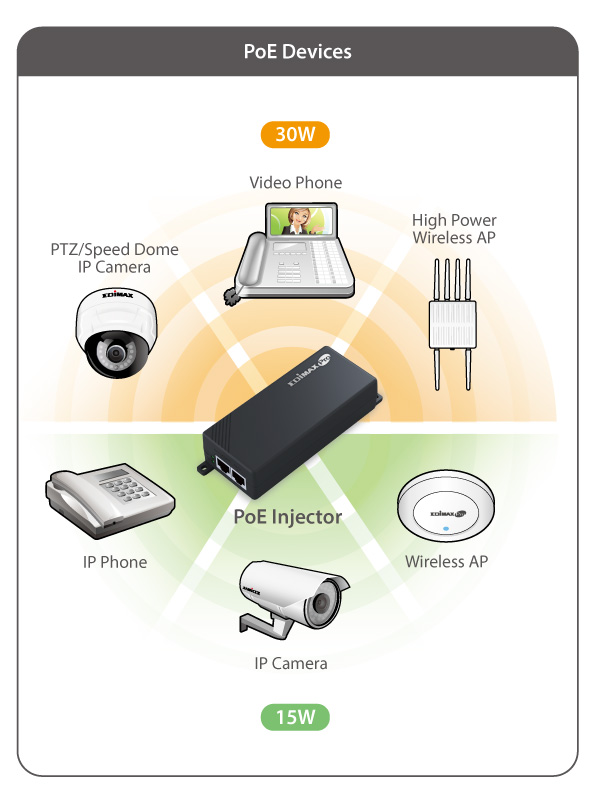 ​