Betaalbaar instap niveau draadloos access point ontwikkeld voor MKB bedrijven
The CAP300 is a reliable and affordable entry level wireless access point designed to meet the needs of modern small to medium sized businesses, with IEEE802.11n wireless speeds up to 300Mbps. Industrial-grade performance and build quality combined with user-friendly operation, an extensive feature set and a practical, ceiling-mount design make an ideal product for day-to-day enterprise use.
For businesses that demand security, flexibility and speed – the Edimax Pro series has a wide range of potential applications from office environments to schools, campuses, hotels and hospitals. Multiple SSIDs can be configured for different departments or user groups and a built-in RADIUS server provides additional verification with a scalable AP array architecture for central management of multiple access points. Fast roaming for seamless transitions between access points, Power over Ethernet support (PoE) and an intuitive web-based management interface provides flexibility for deployment and extensive management options for company MIS departments and network administrators.
When performance and security are critical for your business, you need products that are engineered for your industry. The Edimax Pro series is designed to help your business and provide the connectivity that you rely on every day, with safety and effectiveness guaranteed.
KEY FEATURES
802.11N High Speed: IEEE 802.11n met een draadloze doorvoer van 300Mbps.
Eenvoudig te installeren: Wordt geleverd met montageset om tegen de muur te bevestigen.
Ontworpen voor High-density gebruik: Ondersteunt tot wel 100 gebruikers tegelijkertijd, ideaal voor BYOD (Bring Your Own Device)-werkplekken.
Meerdere SSID's voor beveiligingsbeheer: Met ondersteuning tot 16 verschillende SSID's is zeer geschikt voor verschillende afdelingen, gebruikersgroepen, klanten of gasten.
Snelle Roaming: Roaming tussen AP's vindt plaats zonder vertraging of onderbrekingen waardoor de beste prestaties gegarandeerd worden voor video en voice-streaming toepassingen.
Brede dekking & Hoge gevoeligheid: Aanpasbaar RF-uitgangsvermogen en een gevoelige ontvanger voor een brede dekking in grote ruimten.
Naadloze mobiliteit: 1.5 x groter bereik dan standaard AP's om een volledig bereik en naadloze connectiviteit voor Wi-Fi apparaten te garanderen binnen zakelijke omgevingen.
Power over Ethernet: Ondersteunt IEEE 802.3at PoE en IEEE 802.3af PSE en wordt geleverd met een voedingsadapter.
Ingebouwde RADIUS-server: Met beheer voor 256 gebruikersaccounts.
Zakelijke omgevingen: Geavanceerde keuze voor toepassingen die hoge prestaties vereisen. Geschikt voor een brede reeks commerciële toepassingen zoals in kantoren, hotels, vergaderruimtes, scholen, schoolterreinen (campus), resorts, winkels enz.
Een centraal beheer: De Edimax Pro Netwerkbeheer Suite (NMS), een eenvoudige en intuïtieve centraal beheersuite, ondersteunt AP array architectuur.
---
​
High Performance ontwerp met High-Speed 300Mbps 11n
Ondersteunt 802.11b/g/n Met snelheden tot 300 Mbps. Bovendien zijn de Edimax Pro serie producten voorzien van andere kwalitatief hoogstaande eigenschappen, zoals solide condensators die zorgen voor een aanzienlijk langere levensduur dan traditionele niet-solide alternatieven, en die minder warmte genereren en meer stabiliteit bieden. Duurzaam, robuust en geschikt voor bedrijfsomgevingen.​
​
Brede dekking & meerdere SSID's
Met een aanpasbaar uitgangsvermogen en een ontvanger met een hoge gevoeligheid, zijn de Edimax Pro access points uitgerust om een uitgebreide dekking te leveren waar dit het meest nodig is. Geschikt voor grotere ruimtes tussen kantoren, winkels, ziekenhuiskamer of vergaderruimtes. Zorgt voor de draadloze dekking die uw personeel en uw systemen nodig hebben om efficiënt te kunnen functioneren. Zorg ervoor dat elke hoek van uw bedrijf verbonden is, en differentieer gebruikersgroepen, afdelingen of gasten met meer dan 32 individuele SSID's met onafhankelijke beveiliging. Brede, toegankelijke Wi-Fi dekking met sterke beveiliging om gevoelige bedrijfsinformatie te beveiligen en de toegang tot interne netwerken te bewaken.
BYOD oplossingen en High-Density netwerken
Bring Your Own Device (BYOD) wordt wereldwijd steeds gebruikelijker binnen bedrijven en kantoren. Werknemers gebruiken hun eigen smartphones, laptops, en tablets met de nieuwste cloud-verbonden productiviteitsapp's om dingen gedaan te krijgen. In kantoren, hotels, scholen of andere drukke omgevingen, moeten access points kunnen omgaan met een hoge hoeveelheid gebruikers die op elk moment en tegelijkertijd verbinding maken met het netwerk, of dit nu klanten of werknemers zijn. De Edimax Pro oplossingen ondersteunen de 802.11n Wif-Fi-standaard, met de capaciteit om vijftig gebruikers tegelijkertijd te ondersteunen. Dit maakt deze apparaten ideaal voor BYOD werkplekken en een hoge hoeveelheid draadloze apparaten.
Naadloze mobiliteit
Een standaard draadloos access point kan effectief een afstand van 25 - 30 meter overbruggen bij normaal gebruik. Dankzij de vooruitstrevende technologie van de Edimax Pro access points, kunnen we effectief een 1.5 keer grotere afstand overbruggen, waarbij Wi-Fi dead spots volledig geëlimineerd worden en complete dekking wordt geboden binnen bedrijfsomgevingen. Draadloze apparaten kunnen naadloos verbonden blijven op plaatsen waar de connectiviteit nodig is voor de efficiëntie en productiviteit. Daarnaast kunt u profiteren van mobiliteit met snelle verbindingen op een brede reeks draadloze apparaten, waaronder smartphones, tablets en computers, binnen de gehele organisatie.
Hotels, kantoren, scholen en ziekenhuizen
De Edimax Pro series access points, met snelle 300n high-density netwerkverbindingen voor wel 50 gelijktijdige gebruikers, zijn ideaal voor gebouwen met meerdere huurders, hotels, resorts, ziekenhuizen, schoolterreinen (campus) of andere plekken waar het netwerk veel gebruikt wordt en waar de veiligheid en effectiviteit gegarandeerd moeten zijn.
ongewenste AP-detectie en draadloze isolatie
De ongewenste AP-detectie kan elk ongeautoriseerd SSID dat met kwaadaardige bedoelingen geïnstalleerd is binnen een veilig netwerk, identificeren. De L2 draadloze isolatie biedt draadloze beveiliging.
Eenvoudig en intuïtief centraal Netwerkbeheer (NMS)
Edimax Pro NMS (Network Management Suite) is een op web gebaseerd draadloos netwerkbeheersysteem. MIS (management information system) afdelingen kunnen de krachtige functionaliteit van de Edimax Pro access points plannen en beheren op basis van hun eigen kantooromgeving, met gebruik van een eenvoudige, interface welke voorzien is van een dashboard, kaartweergave, verkeersstatistieken en draadloze clientlijsten voor een netwerk-brede administratie op afstand. RADIUS-instellingen, WLAN-groepsinstellingen, toegangscontrole, gastnetwerk-instellingen en firmware-upgrades kunnen allemaal centraal beheerd worden om de downtime van het netwerk te verminderen, hulp te bieden bij foutoplossing en de netwerkprestaties te optimaliseren. Zone-planning en set-up wizards zijn tevens beschikbaar voor het uitbreiden en beheren van grote netwerken met meerdere access points.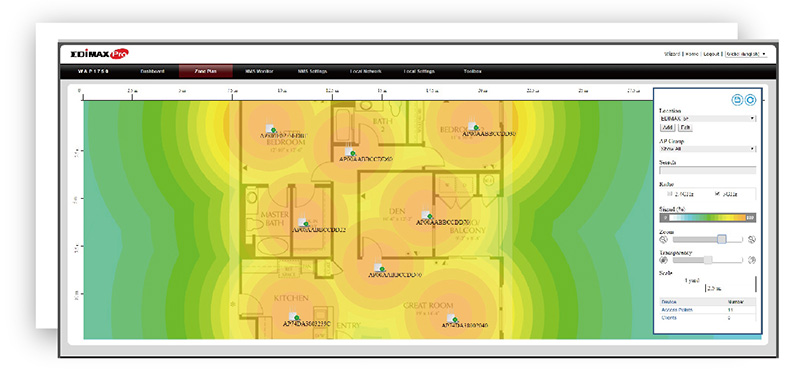 ​
​
AP Array
Edimax Pro Network Management Suite (NMS) ondersteunt een AP array architectuur waarmee een groep access points centraal beheerd kunnen worden. NMS kan worden geïnstalleerd op een access point en ondersteunt tot wel 8 Edimax Pro access points zonder dat er een extra draadloze controller nodig is. Hiermee worden kosten verlaagd en een efficiënt extern AP-beheer mogelijk gemaakt. U kunt access points installeren en configureren naar gelang uw behoeften om een krachtige netwerk te creëren dat eenvoudig beheerd en uitgebreid kan worden in de toekomst, en met een gebruiksvriendelijke interface en complete functionaliteit voor het MIS van een bedrijf.
​
​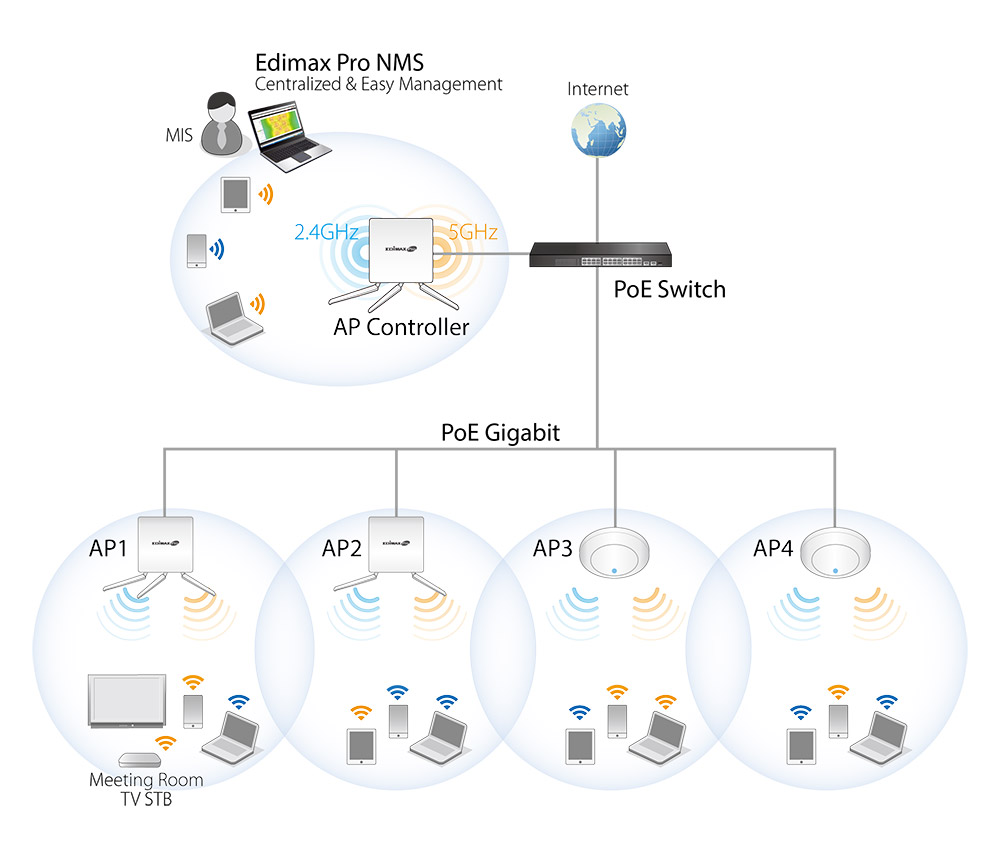 ​

Eenvoudige installatiekit
Plafond & T-rail bevesting meegeleverd voor gemakkelijke installatie.