The Gemini RE11 Home Wi-Fi Roaming Kit contains two RE11S AC1200 dual-band Wi-Fi extenders designed to upgrade and extend your Wi-Fi without replacing your existing router. The two RE11S extenders build an intelligent Wi-Fi roaming mesh network with a single SSID (network name). They automatically detect and switch your device to the best available Wi-Fi signal for a more natural, seamless experience. You can move freely in your home without signal drops or switching between SSIDs.
​
Designed for fast and reliable home Wi-Fi, the Gemini RE11 Kit features 802.11ac supercharged speed. Just plug and play to instantly upgrade an 11n network to dual-band 11ac wireless with speeds up to 1200Mbps (300Mpbs on 2.4GHz + 867Mbps on 5GHz) – ideal for video streaming. Additionally, designed for easy home Wi-Fi, the RE11S is a 3-in-1 device that can function as a Wi-Fi Extender, Access Points or Wi-Fi Bridge depending on your home Wi-Fi requirement. And it works with any router – easy!
Smarter Wi-Fi with a Single Network
Fast, reliable roaming for a seamless connection while you move around your home. No hassle with switching SSIDs (network name). The RE11S uses the same SSID and automatically switch intelligently.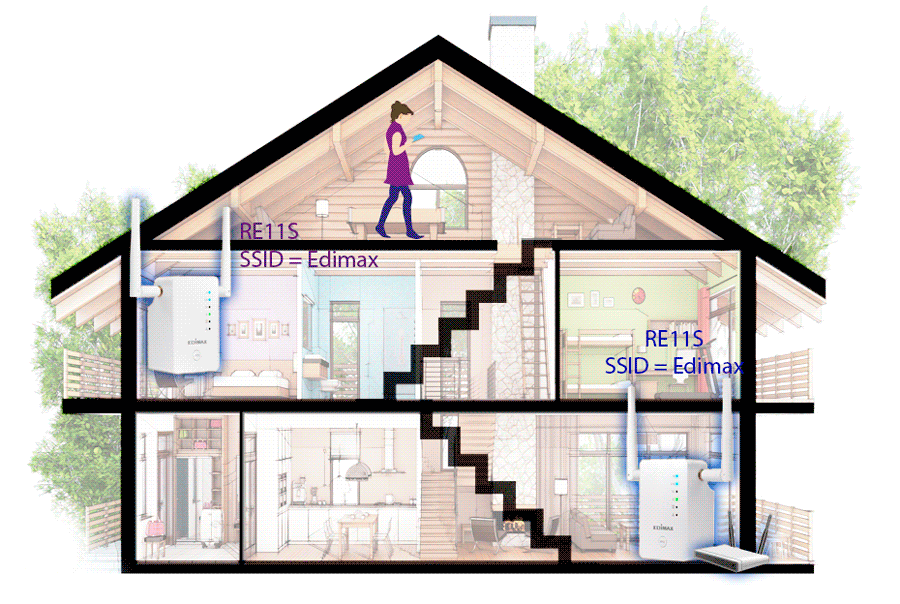 ---
Stronger Signal for Connected Homes
RE11S extenders keep detecting the Wi-Fi signal quality for your Wi-Fi devices, and ensure they're always connected to the best Wi-Fi signal.

---
Faster 802.11ac Speeds Ideal for Streaming
Upgrade your single-band 2.4GHz Wi-Fi to 802.11ac dual-band Wi-Fi with 5GHz ideal for video streaming. Get the latest 11ac technology with high-speed capacity up to 1200Mbps (N300 + AC867Mbps), and extend both 2.4GHz and 5GHz wireless connections at the same time.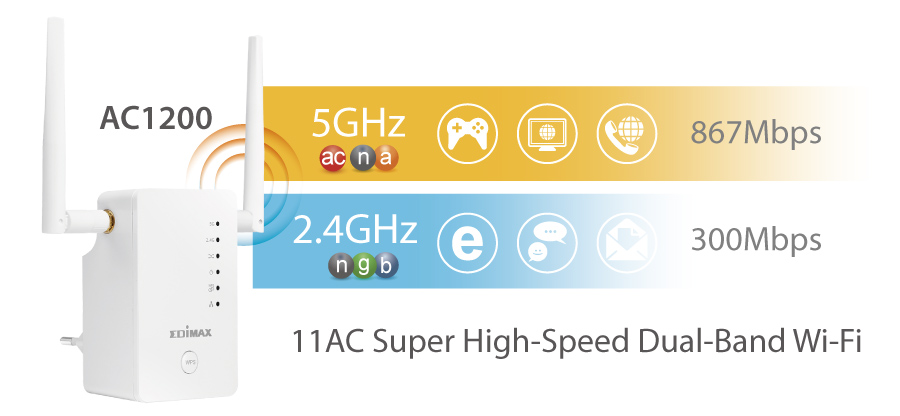 ---
Easy Plug & Play Upgrade for Your Home 11n Router to 11ac
Just plug in the Edimax RE11S to upgrade your single-band 2.4GHz Wi-Fi to dual-band with better coverage, without replacing your router and with zero configuration required. *AP mode only.

---
Smart 3-in-1 Wi-Fi Extender, Access Point and Wi-Fi Bridge
The RE11S can work as Wi-Fi extender, access point or Wi-Fi bridge. Just configure the mode you need for your network environment using the smart iQ Setup wizard and enjoy surfing the web.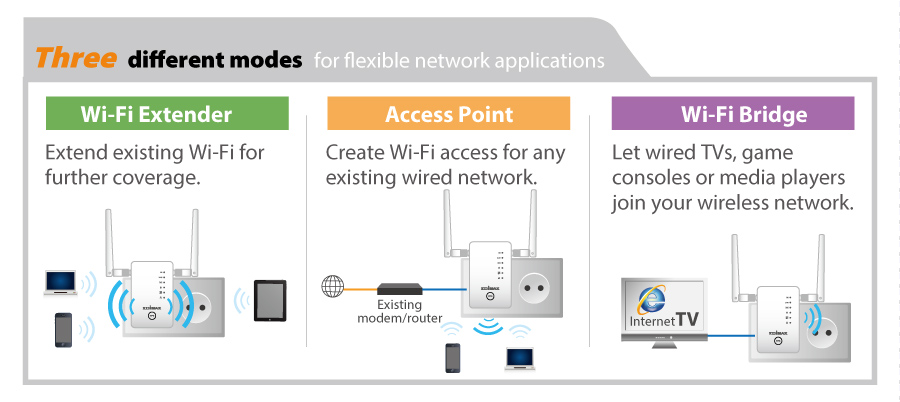 ---
Smart iQ Setup
Features user-friendly browser-based iQ Setup for smart, automatic and quick installation. iQ Setup automatically detects the available Wi-Fi networks nearby and helps you establish a connection in a few seconds.
*Wi-Fi Extender mode only.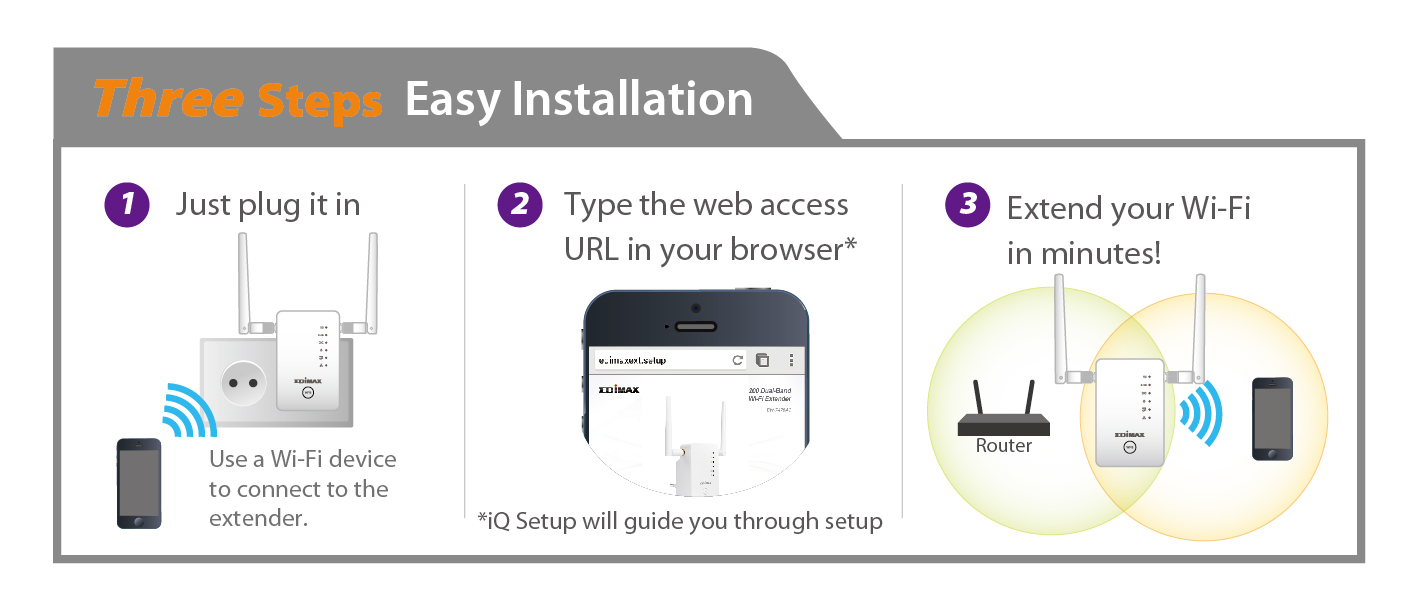 ---
Universal Compatibility, Works with Any Wi-Fi Router
Universal compatibility and easy web-based iQ Setup for quick and easy installation.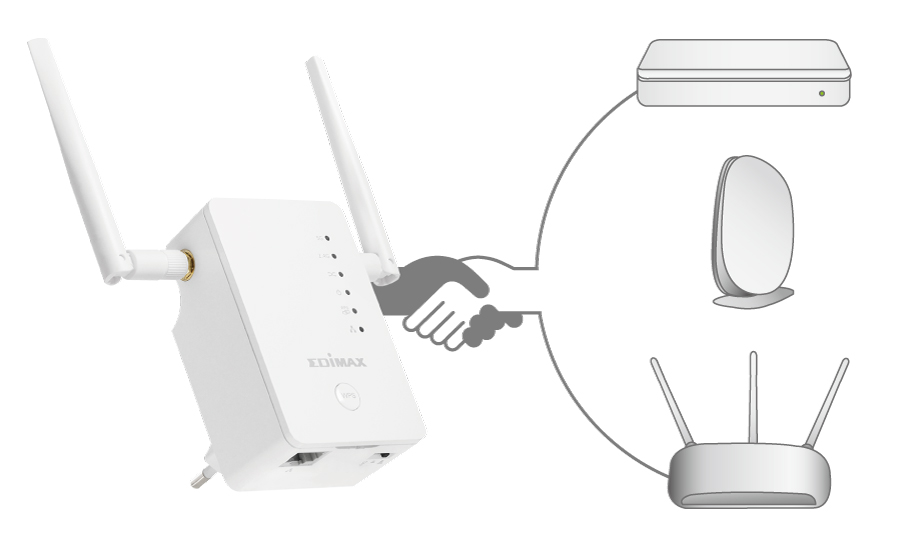 ---
Detachable Antenna
Designed with a detachable 3dBi dual-band antenna, to provide flexibility and high performance connections for your wireless network.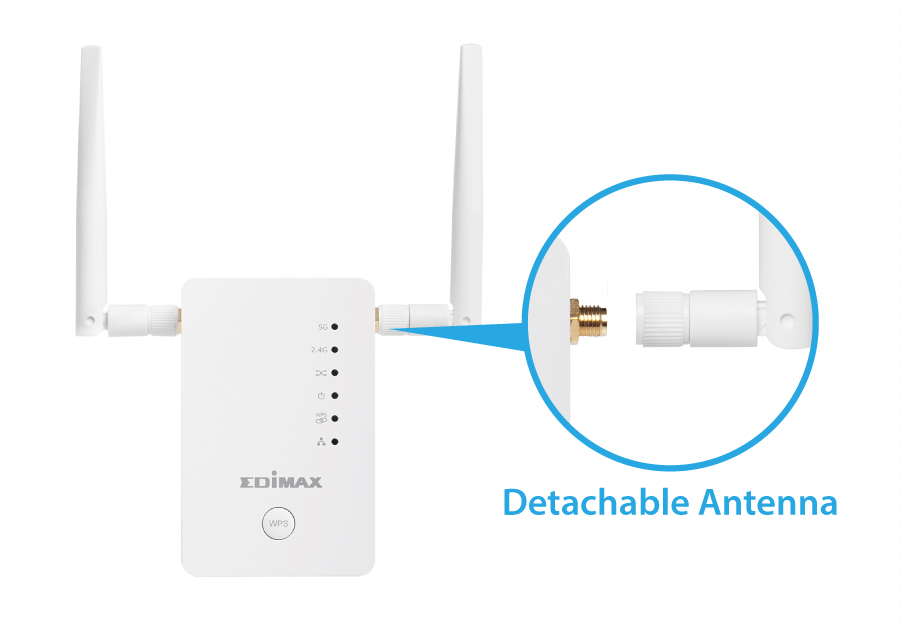 ---
Green Wi-Fi Power Switch
Featuring a new hardware switch to adjust between normal and green Wi-Fi transmit power (the strength of the Wi-Fi signal), or switch off the power with one click. If you only need Wi-Fi in a smaller house, you can switch to green mode to reduce power by 75% and conserve energy.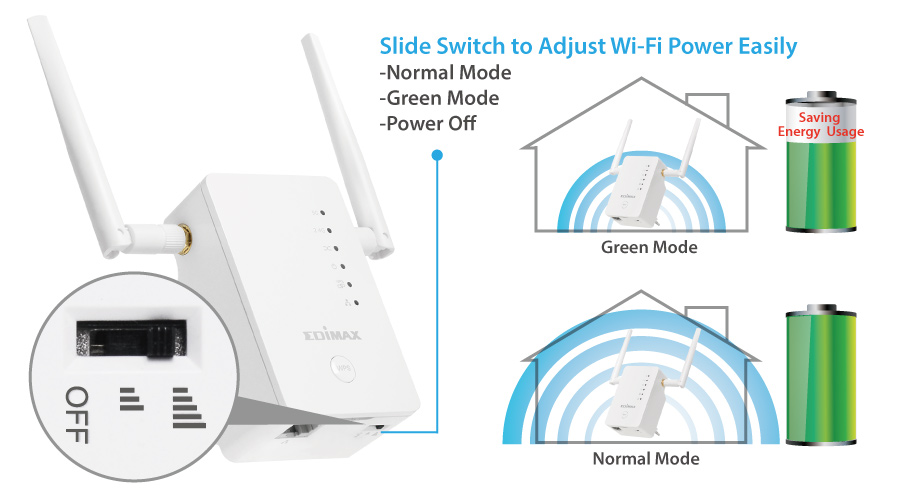 ---
Friendly Signal-Strength Indicator
Designed with a signal strength LED which lets you see the Wi-Fi signal strength received from the router* and guides you to find the best setup location.
*Wi-Fi Extender or Wi-Fi bridge mode only.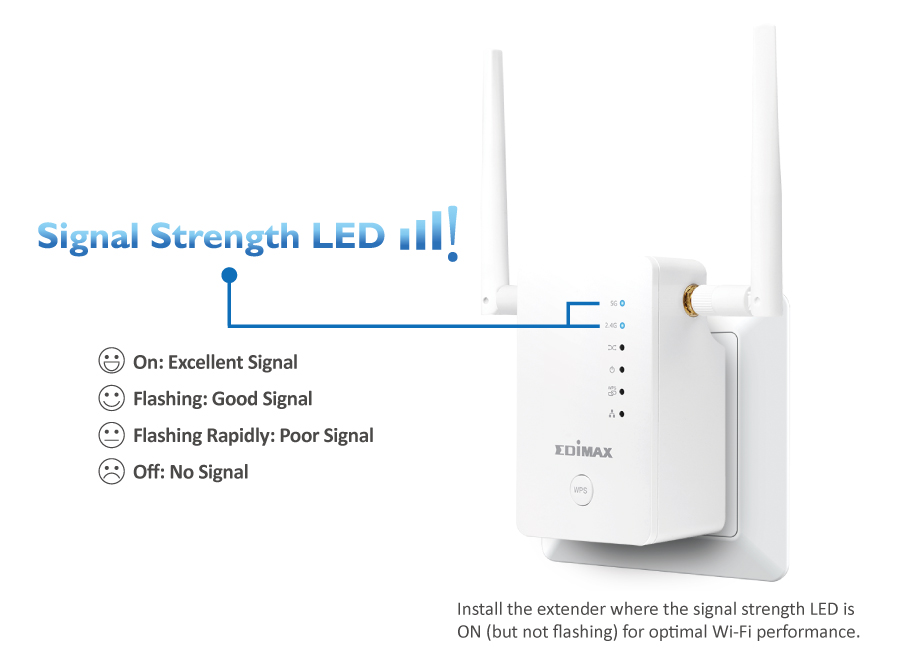 ---
APPLICATION DIAGRAM