The GS-1008E is 8-port gigabit desktop switch is designed to enhance network performance while maintaining a compact form factor. It boasts outstanding performance and high efficiency, while its store and forward packet-switching technology offers reliable data transfer ideal for network connectivity in the SOHO environment. The GS-1008E is designed with a metal casing and offers an easy, cost-effective gigabit Ethernet solution for users looking to extend home networks and fulfill their online gaming, multimedia transfer and streaming needs. A superb choice to boost your network performance and efficiency.
Supports High-Speed Networking and Jumbo Frames
Expand your Gigabit network. With Gigabit speed, the GS-1008E brings high-flexibility and high-bandwidth connectivity to servers, workstations and other attached devices. It enables you to save time when transferring large files. 9K jumbo frames are also supported to improve network utilization in large files transfer.
Plug & Play, No Installation Required
Just plug Ethernet enabled devices into the switch. Data can be transmitted through existing standard Cat-5e Ethernet cables with no additional cables or configuration required.
High Performance
Supports auto-negotiation non-blocking wire speed, auto-MDI/MDI-X and store and forward architecture to give you the maximum speed and highest performance possible for each device connected to your network.
Each of the GS-1008E's ports automatically detect whether connected network devices are running at 10Mbps or 100Mbps and half-duplex or full-duplex mode, and adjust the speed and mode accordingly ensuring easy and hassle-free operation.
Forwards and receives traffic seamlessly – each port supports speeds up to 200Mbps in full-duplex mode simultaneously, providing full wire speed to connected devices so you can run a high speed network smoothly.
Every port of the GS-1008E can automatically detect cable type. There's no need to choose crossover or parallel cables when connecting the switch to another switch or computer.
Supports Store and Forward Architecture
Store and forward architecture filters fragment & CRC error packets, maximizing network performance while minimizing the propagation of bad network packets.
Power Saving with IEEE Energy Efficient Ethernet (EEE) Compliance
Along with the Fast Ethernet speeds critical for next-generation network applications, the GS-1008E offers environmental efficiency. To comply with the IEEE802.3az standard, the GS-1008E provides power-saving functionality to reduce energy consumption and save costs:
When a network device is shut down and/or an inactive link is detected, the power usage adjustment feature automatically reduces power usage. The switch's power consumption will be dynamically adjusted according to the link status and the number of active network devices.
Devices equipped with this feature automatically detect the length of connected Ethernet cables and adjust power usage accordingly. The shorter the cable length, the less power it consumes.
Fan-less Design
Fan-less design provides quiet operation and helps to extend the device's lifetime in office spaces - the perfect solution for small business and SOHO office deployments.
---
APPLICATION DIAGRAM
​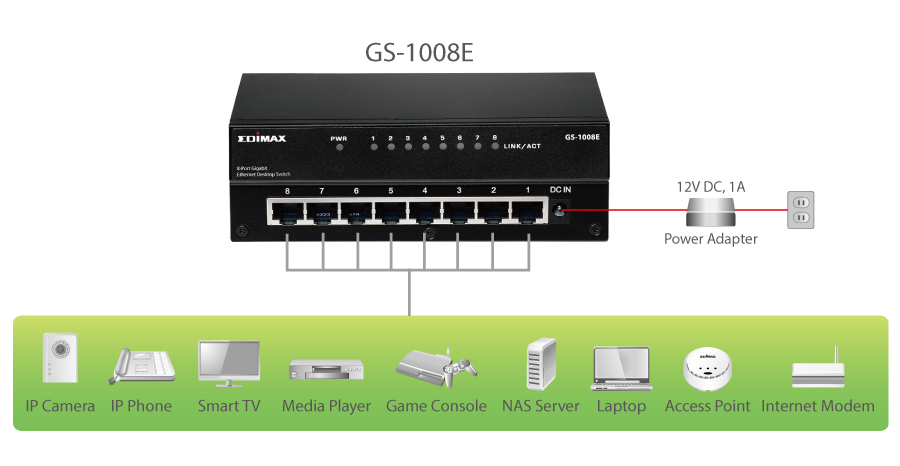 ​