Complete standard features
BR-6314K is a full-featured broadband router that establishes with connection to local area network or individual PC with build-in 4-port Switch. It uses advanced WavePlus broadband router solution provides complete set of industry standard features ( PPPoE /Static IP/DHCP/L2TP/PPTP/Telstra Big Pond) for high-speed Internet access. It also offers easy installation and cost-effective connection for corporate, SOHO and residential users.
EZmax Multi-languages Setup Wizard*
A unique 16-language setup wizard is included in the CD ROM. You can select your native language and follow the simple steps to setup Internet connection, password and firmware upgrade.
High Throughput
BR-6314K built-in hardware-based NAT function to decrease CPU loading. The hardware NAT can provide you high performance throughput to access Internet application quickly.
Virtual Server and DMZ
For application that demand open port such as network gaming and web server, the Virtual Server and DMZ functions will provide the ideal solution.
Internet Connection Sharing
Integrated 4-port Ethernet switch, BR-6314K is able to maximize Cable or xDSL Internet connection. With the built-in DHCP server and NAT function, it allows up to 253 devices share the Internet connection at the same time.



---
APPLICATION DIAGRAM
An example of how the BR-6314K can be setup:
Connect the BR-6314K router to your Ethernet (RJ-45) cable/ xDSL modem
Connect a computer to the LAN port and setup the Internet connection by running the multi-language setup wizard.
Share the Internet connection by connecting a LAN cable to other devices.
You can also share your printer using an Edimax print server.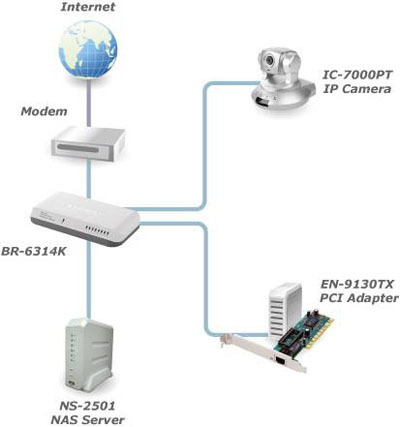 ​