Power over Ethernet (PoE) è solitamente limitato a un intervallo di 100 metri a causa della capacità dei cavi. Per un networking PoE che copra ampie distanze, l'unità di estensione PoE+ GP-101ET è il dispositivo perfetto, in grado di aumentare la capacità di altri 100 metri (328 ft). Si tratta di un'unità di estensione PoE Gigabit da 1 porta con installazione plug and play che non richiede configurazione o alimentazione extra e agisce come ripetitore PoE innovativo e conveniente in grado di estendere dati e potenza per ulteriori 100 metri. Estendi la tua rete per PD (Powered Device) quali punti di accesso WLAN, telecamere di rete, IP phone ecc, con l'elevata velocità Gigabit per una flessibilità migliorata.
Standard Power over Ethernet IEEE 802.3at/af
L'unità di estensione GP-101ET può essere collegata a qualsiasi nodo terminale IEEE 802.3at/af come punti di accesso, telecamere di rete, telefoni Voice over IP (VoIP) e applicazioni IP-based ove la porta in linea Power over Ethernet IEEE 802.3 at/af sia supportata.
Intervallo più esteso con una maggiore efficienza economica
Permette al cavo Ethernet di trasmettere sia dati che potenza per ulteriori 100 metri. Ciò riduce la necessità di installare cavi e rende superflue le prolunghe o le prese elettriche su parete, soffitto o qualunque altro posto difficilmente raggiungibile. Costi di installazioni nel complesso inferiori e gestione semplificata.
Plug & Play Installazione facile
Nessuna alimentazione aggiuntiva o configurazione richiesta per una semplice installazione plug and play.
Alimentazione flessibile ed affidabile
Funzione di protezione PoE contro il corto circuito per la salvaguardia di dispositivi di rete e la protezione contro danneggiamenti.
---
DIAGRAMMA DI APPLICAZIONE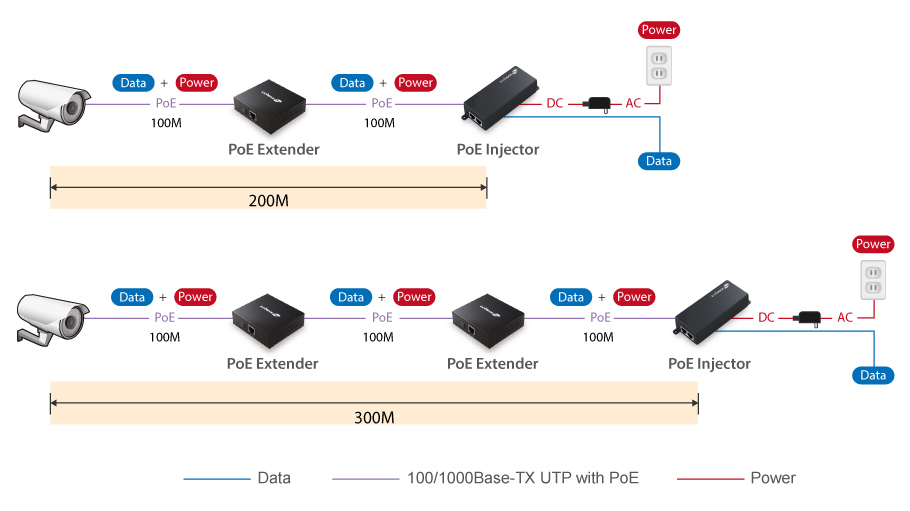 ​​