The Edimax BR-6478Gn is a high performance wireless router perfect for home and SOHO networking applications. It offers super fast wireless speeds of up to 300Mbps and wired speeds of up to 1000Mbps; and its smart iQ Setup feature helps you get this router up and running with a few simple clicks.
300Mbps Max. Wi-Fi Speed
This Edimax wireless router is a high-speed solution that complies with IEEE 802.11b/g/n standards. The latest wireless MIMO (multiple-input and multiple-output) technology is built into this router to broaden its Wi-Fi coverage and to eliminate dead spots within the signal range. When it is connected to IEEE 802.11n wireless devices, this Edimax wireless router can reach Wi-Fi speeds of up to 300Mbps.
Gigabit Ethernet
The gigabit Ethernet ports on this Edimax router provide connection speeds of up to 1000Mbps, up to 10 times faster than 100BASE-TX Ethernet connections. With lightning fast Ethernet connectivity, this router is perfect for interactive gaming, media streaming, system backup, and transferring large files like HD videos, music, and photos across the network.
iQ Setup
iQ Setup is a smart feature that allows even the most inexperienced users to set up an Edimax router quick and effortlessly. After the appropriate connections are made, you just need to open your web browser and iQ Setup will start setting up your router automatically. With iQ Setup, little to no configuration is required on your part and no installation CD is necessary.
iQoS
iQoS is Edimax's answer to the need for a quicker, easier, and more effective way to manage Internet bandwidth. Its simple and intuitive user interface allows you to arrange bandwidth priority settings in just a few clicks. With iQoS, gaming, watching online video, and downloading files at the same time will no longer be a nightmare.
APPLICATION DIAGRAM

​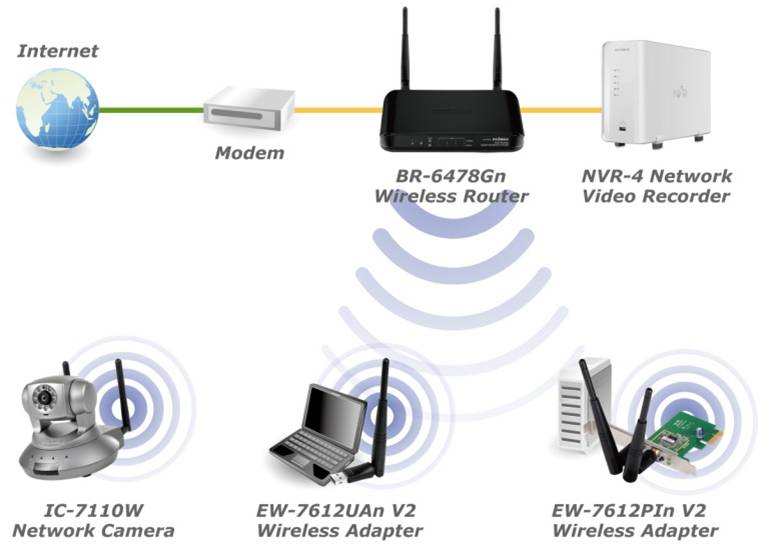 ​