Industrial Managed Switches
Durable Performance Network
that You Can Rely on
The ruggedized design of Edimax Pro industrial switch series is certified to withstand harsh environment and provides reliable dual redundancy for efficiency.
Certified Ruggedized Design

Equipped with anti-dust IP30-rated aluminum alloy case, the switch is designed and certified to withstand a high degree of vibration, shock, free-fall protection and against ESD/EMI surge for harsh environments.*

High/Low Temp. Resistance

The industrial switch operates with a wide temperature range from -40°C to 75°C (-40°F to 167°F) for industrial and outdoor network deployment with capability of withstanding the extreme hot and freezing environments.

Reliable Dual Redundancy

Supports network redundancy with RSTP, MSTP, ERPS, LACP and power redundancy with two power inputs to ease the unexpected risk and ensure stable and reliable network service quality.
*The switch also has industrial-grade certification of EMC (Electromagnetic Compatibility) 61000-6-2, 61000-6-4 and EMS (Electromagnetic Sensitivity) IEC61000-4-2 (ESD), IEC61000-4-3 (RS), IEC61000-4-4 (EFT), IEC61000-4-5 (Surge), IEC61000-4-6 (CS), IEC61000-4-8 (Magnetic Field).
For Harsh Environments in IIoT and Smart City
Ideal solution for industrial networks such as automotive, factory automation, oil and gas, mining, military, transportation, substation, energy and outdoor applications of railways, roads, tunnels, smart cities, city surveillance and traffic monitoring.
Manufactureing, Automotive

Energy Plant

Transportation, Smart City

Factory Automation
Noteworthy Benefits for Your Network
Edimax Pro industrial switch series is designed for easy, flexible deployment and management with ever better cost efficiency by reducing downtime, extending system lifecycle and lowering maintenance costs with more features as below but not last.
PoE PD Alive Check

PoE Powered Device (PD) alive check to monitor real-time status of connected PDs and enable to reboot fail PDs to enhance the reliability of the network.

USB Console Port

Designed with the USB console port for convenient system backup, restoration and upgrade to enhance maintenance efficiency and reduce system downtime.

Long-Range Fiber

Featuring with dual-speed fiber SFP slots, connects to uplink to backbone core switch and monitoring data center in long distance from 550M to 30KM.*

Smart & Secure

The industrial switch features smart and simple network monitoring tools that allow for improved network efficiency and security.
*The maximum fiber optic cable distance is subject to the SFP transceiver specification.
High-Availability with Reliable System Redundancy
Supports Ethernet Ring Protection Switching (ERPS V2), the industrial switch enables the network to provide service and operate without interruption with failover and recovery time less than 20ms. Equipped with dual redundant power inputs with overload current protection ensures the network reliable operation.
Network Redundancy

Power Redundancy
Easy and Flexible Deployment
Edimax Pro industrial switch series is for easy, flexible deployment and cost-saving installation with the DIN-rail mounting and wall mounting enabled design and allows to be deployed in a variety of applications.
​ ​ ​
Enduring and Fanless Design
With dedicated and outstanding electrical and mechanical designs of the component and compact aluminum alloy housing, the industrial switch is optimized for the heat transfer without fan required and ensures excellent performance in the extreme hot and freezing environments.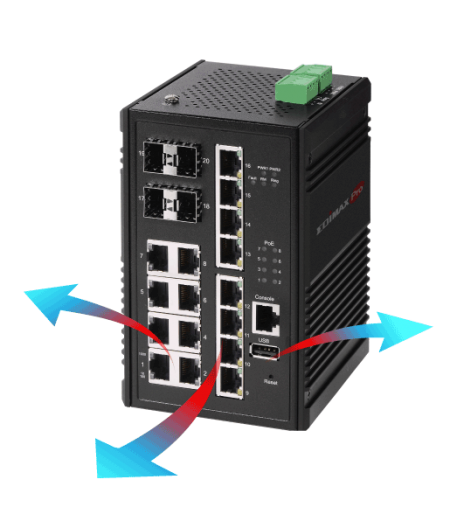 Enhance Your Network to be Ruggedized
Durable, Reliable, Flexible & Smart Network for Harsh Environments.
Robust Industrial Managed Switch
Enriched, Reliable, Smart Features
Supports RSTP, MSTP, ERPS, LACP for network redundancy to ensure the network connection reliability.
Equipped with redundant power inputs (both Digital Input (DI) and Digital Output (DO)) and embedded protecting circuit to avoid damaging the switch.
Supports Storm Control to suppress a packet storm in a network (Storm Protection).
DHCP snooping to protect the integrity of legitimate DHCP server and its operations.
Supports SNMP v3, Access Control List (ACL), QoS, CoS, STP, 802.1Q VLAN, IPv4/IPv6, Port Trunk, IGMP v1/v2/v3 Snooping and Mirror.
Download DM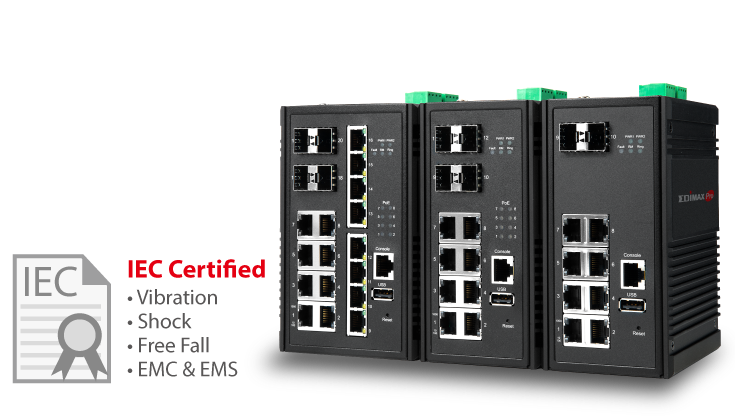 Industrial Switch that You Need......
IGS-5416P

8 x 100/1000Base T PoE+ Ports,
8 x 100/1000BaseT Ports,
4 x 10/1000BaseSX/LX SFP Slots
Total 240W PoE Power Budget
RJ-45 & USB 2.0 Console Ports
Smart and Easy Management Web-Based Tool and Security

IGS-5408P

8 x 100/1000Base T PoE+ Ports,
4 x 10/1000BaseSX/LX SFP Slots
Total 240W PoE Power Budget
RJ-45 & USB 2.0 Console Ports
Smart and Easy Management Web-Based Tool and Security


IGS-5208

8 x 100/1000BaseT Ports,
2 x 10/1000BaseSX/LX SFP Slots
RJ-45 & USB 2.0 Console Ports
Smart and Easy Management Web-Based Tool and Security