Transmit Network Data via Existing Electrical Wires
If your home or office does not have Ethernet cables installed in the wall and you dislike the idea of unsightly external cabling running all over the place, use the EDIMAX HP-5001 500Mbps PowerLine Ethernet Adapter to turn the existing electrical wires in your home or office into a high-speed network connection. With the HP-5001, annoying cable planning and installation are no longer necessary. The HP-5001 enables you to create a network environment easily and cost-effectively.
PowerLine Data Rates Up to 500Mbps & Gigabit Ethernet Connectivity
The HP-5001 can transmit network data over existing electrical wires at speeds of up to 500Mbps. It is also backward compatible with the 200Mbps AV200 standard. Additionally, the HP-5001 is built with a high-speed gigabit (10/100/1000Mbps) Ethernet port. You can give network devices like computers, game consoles, HDTVs, and IP cameras ultrafast network connectivity with the HP-5001.
IPTV, VoIP & IGMP Support
The HP-5001 supports Internet Protocol Television (IPTV) and Voice over Internet Protocol (VoIP), giving you the flexibility of using this powerline adapter with your IPTV set-top box or your Internet telephone. The HP-5001 also supports IGMP multicast services. With IGMP, the HP-5001 allows for online video streaming, online gaming, and more efficient use of bandwidth resources. You will be able to transfer high-definition video and digital audio simply by connecting the HP-5001 to an electrical outlet.
Hardware Group & Reset Buttons
The HP-5001 has both a hardware group button and a hardware reset button for simplified group and reset configurations. Press the group button and the HP-5001 will help you set up a password for your network automatically. Press the reset button for 3 seconds to reset the device to factory defaults.
128-bit AES Encryption
Built in compliance with the 128-bit AES encryption standard, the EDIMAX HP-5001 500Mbps PowerLine Ethernet Adapter is able to give you superior powerline network security.


---



APPLICATION DIAGRAM


Plug the HP-5001 to the power outlet and connect the HP-5001 to your broadband router.
Plug another HP-5001 to another power outlet and connect the HP-500 to your computer's Ethernet port.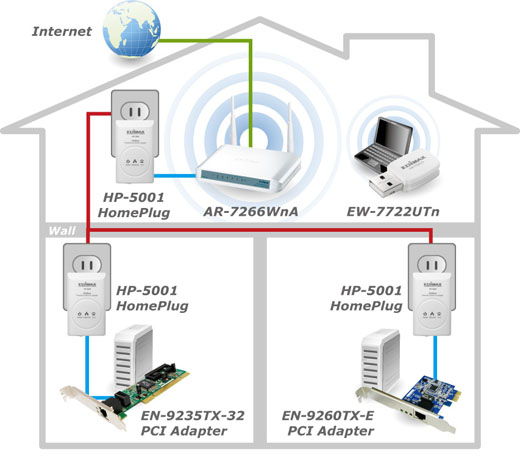 ​
*Powerline adapters must be deployed in sets of two or more.
200Mbps is the maximum theoretical communication speed at the physical layer via electric power lines based on the IEEE 1901 standard.